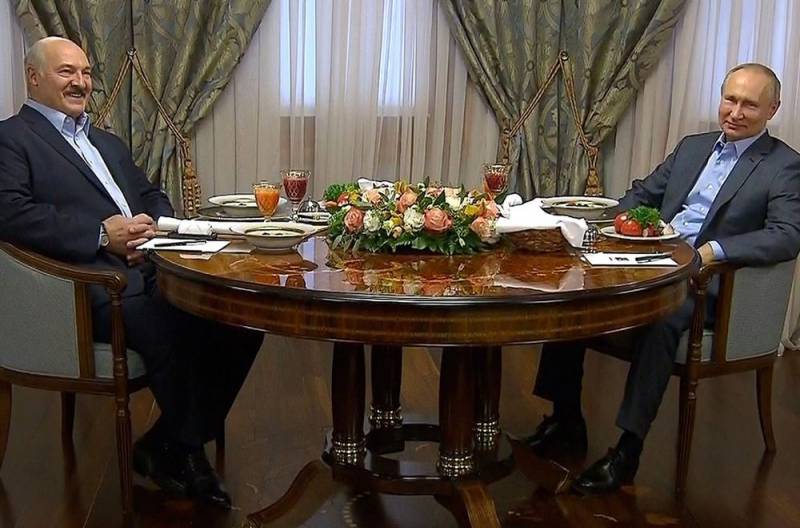 The Belarusian media continue to actively exploit the topic of "absorption" by huge Russia of a "small but proud nation." Moreover, the state media of Belarus speak in unison with pro-American activists, nationalists and "chicks" of the famous "philanthropist" George Soros, who call themselves "Belarusian patriots".
Allegedly, President of Belarus Alexander Lukashenko, after a recent visit to Sochi to Russian colleague Vladimir Putin in Sochi, complained in Minsk that Moscow was "hinting at Belarus joining in exchange for a single energy price." At the same time, it is emphasized that the Belarusian leader on the issue of independence of the state is "more resistant than ever" and even expressed his conviction that neither the Belarusian nor the Russian people will ever want to take this path. As for energy, Minsk will continue to diversify, even if the raw materials are more expensive than from Russia. The main thing is "do not kneel" in front of Moscow.
This informational "patriotic" bacchanalia reached the point where on February 12, 2020, the press secretary of the Russian leader Dmitry Peskov was forced to refute the information that Putin was offering Lukashenko a union of the two countries. At the same time, many people "suddenly" forgot that on December 8, 1999, the solemn signing of the Treaty on the creation of the Union State of Russia and Belarus took place in Moscow, and an Action Program for the implementation of the said document was adopted. It's just that Belarus now has no competitor in the person of Ukraine, and Lukashenko has been taking advantage of this for more than five years now.
By the way, in December 2019, Lukashenko
said
that Moscow should provide Minsk with a discount on gas due to the fact that Belarus suffered as a result of the Chernobyl disaster. He substantiated his claim "father's" very simply - Russia is the successor of the USSR. And so, Lukashenko raised this issue again.
Belarusian media inform that, according to Lukashenko, Moscow could supply gas to the regions of Belarus affected by the Chernobyl nuclear power plant at a lower price. Lukashenko believes that Russia should not abandon the promises of the government of the USSR. He was indignant that Belarus, which suffered most from the accident, did not receive support. Lukashenko explained that "people still cannot use both wood and other types of fuel due to this disaster."
We remind you that now in Belarus
is decided
"Extremely important issue for the nation" is the introduction of changes to the national emblem. They want to make him more "European" by "pushing" Russia.