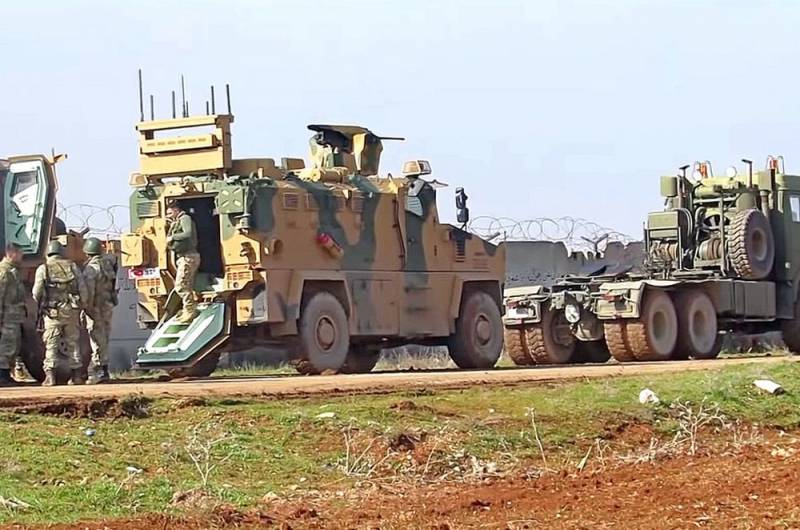 The Turkish army continues to block the passage along the strategic highway M-5 (Damascus - Homs - Hama - Aleppo) in the Syrian province of Idlib, explaining this with "security objectives." At the same time, the inhabitants of Syria are forced to go round the Turkish "observation posts" in the fields, turn from the indicated highway to the side. The Turkish military passes exclusively through its "observation posts" the transport of the Russian military police.
It should be noted that Turkish "observation posts" appeared in the Idlib "de-escalation" zone more than a year ago. Currently, the front line has changed significantly and shifted in a north-westerly direction. So the entire M-5 highway turned out to be liberated from the "barmalei" jihadists, "moderate" terrorists and other pro-Turkish "oppositionists". As a result, the Turkish "observation posts", which previously covered the militants, were in the rear of the Syrian Arab Army (SAA).
Naturally, official Damascus did not give Turkey permission to organize "observation posts". Ankara still calls the legitimate authorities of Syria the "Assad regime." But, despite this, the SAA is not aggravating and is not trying to expel the Turkish military.
At the same time, the SAA continues a large-scale offensive in the provinces of Idlib and Aleppo, freeing new territories from militants. Moreover, Turkish President Recep Tayyip Erdogan is already
said
his country's readiness to shoot down any aircraft over the territory of the Syrian province of Idlib.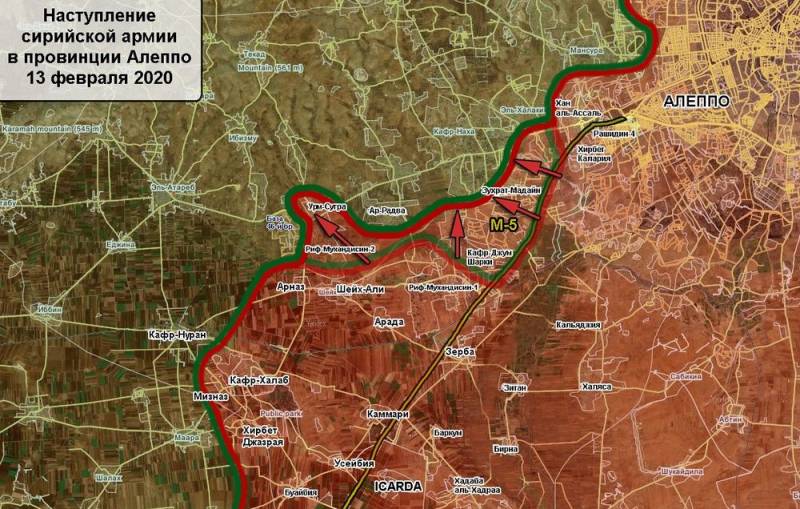 In turn, the expert of the Russian Council on Foreign Affairs (INF) Anton Mardasov commented on the newspaper
"Sight"
information on the blocking by the Turkish military of sections of the M-5 highway.
The M-5 Damascus-Aleppo highway actually provides communication between the south and the north of Syria. It passes to the border of Iraq and is one of the main trade routes of the country.
- said Mardasov.
For objectivity, you need to clarify that the M-5 ends in Aleppo. Further, from this city, there are other roads in various directions, including to the borders with Turkey and Iraq.
To connect Aleppo with Damascus, the M-5 is a key artery. It was in the interests of Moscow to unblock this route for the reactivation of trade, the movement of civilians, and the formation of a buffer zone
- emphasized Mardasov.
I think the chances of reaching an agreement between Russia and Turkey still remain. And now both parties are trying to raise rates, to secure the most favorable conditions for themselves.
- noted Mardasov.
For clarity, we must add that the INF Treaty is a Russian non-profit organization (NPO) in the field of foreign
policy
and international relations, founded in 2011, in accordance with the order of the then President of Russia Dmitry Medvedev. Among the founders of the mentioned NGOs are the Ministry of Foreign Affairs of Russia, the Ministry of Education and Science of the Russian Federation, RAS, RSPP, and IA Interfax.