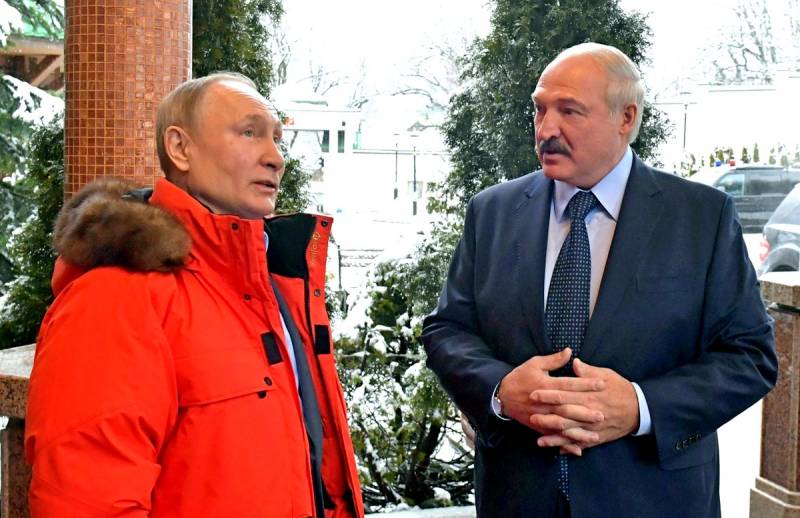 Minsk "pleased" with another innovation, which, in fact, is hardly a masked anti-Russian demarche. There suddenly for no reason they decided to change the state emblem. Rather, do not even change, but adjust. The main "highlight" in this case is a slightly different perspective of the globe located in the center of the image, as a result of which "Russia has become smaller on the globe, and Europe is visually larger" ... Well, there's some kind of childhood, right word.
Nevertheless, some spiteful critics found a reason for everyone in this to declare: "Russia for Belarus is going" into the sunset ". Is it really? What did Alexander Lukashenko really achieve, which actually broke the project of integration of our countries: the declared "independence" or the beginning of the process that will lead to the inevitable political "decline" of himself?
Dangerous Dreams
Of course, the very idea that he can rotate the Earth at his discretion is probably very close to Alexander Grigoryevich, who has too firmly taken root in the role of an omnipotent and eternal sovereign. It's only that his self-confidence has recently begun to take on absolutely grotesque, somewhere even tragicomic forms. Recently, at a meeting with the Head of the Federal Department of Foreign Affairs of Switzerland, Ignazio Cassis, who arrived in Minsk on an official visit, Lukashenko took it and said that "he does not mind that Belarus is called eastern Switzerland"! (It is interesting who and when called her that?!) Like, his country has a "Swiss reputation" because it "always maintains neutrality," and, in particular, thanks to a "decent attitude with other countries." (Hussars, keep quiet!) That's just, the "old man" complained, there are no mountains in Belarus, and as a result there are no resorts that attract crowds of tourists. Well, yes ... And also - Swiss watches, cheese, and, most importantly - banks, without which the neutrality and independence of this country in the twentieth century and there would be no memory. Cassis, pretty dumbfounded by such a frivolous comparison, was saved, apparently, only by the tough school of a career diplomat. Somehow coping with emotions, the Swiss replied that "he doesn't take offense at what was said" and even considers it an honor that Minsk takes an example from his homeland. Then he condescended to recognition: some similarities really exist. Both countries are surrounded on all sides by much larger and stronger powers, with which it is vitally important for them to skillfully conduct business and "establish strong
political
communication "... Alas, it seems that Alexander Grigoryevich missed the last sentence.
Well, Lukashenko would have limited himself to shocking visiting diplomats. The President, nevertheless, can be said in his own right ... Unfortunately, the head of state seems to be really convinced that Belarus is a kind of "pearl of Europe", due to which it is for the favor and sympathy of the "keeper" of this jewel (that is - him personally) are ready to compete all around. At the same time, he manages to point blank not to see that for the West he, as he was the "last dictator," remains so to them. Minsk local politicians are now courting, seducing with vague hints and vague promises solely because they still see the danger of its unification with Moscow. This is best seen from the hilarious "stuffing" from Bloomberg, whose correspondent (obviously sitting under the table of the meeting room in Sochi) told the world that Putin offered Lukashenko no more, no less than "creating a superpower", merging the two countries together . You can't imagine funnier! Russia and so a world power and the addition of the neighboring territory, population, or, say, industry, will not turn it into a "super" one. Tea, we are not integrating with China ... Such nonsense has already been decisively refuted by Dmitry Peskov, who is probably a little better at controlling the situation than US journalists, but the West is not appeasing: well, how will they unite ?! Yes, the prospect for these gentlemen looks extremely unpleasant. And it's not so in terms of directly merging the potential of Moscow and Minsk, as in the sense of a precedent, which is, in fact, the first real step towards the restoration of either the USSR or the Russian Empire. This is what they are afraid to tremble. However, even for such reasons, no one is going to "write to his bourgeoisie" Alexander Grigoryevich. And to help his country too.
Oil bluff
The best indicator that this is true is the situation that has developed around oil supplies to Belarus. Not so long ago, Lukashenko himself, and senior officials compelled to assiduously assent to him, poured left and right with the hottest assurances: "Yes, we! Yes, we have ... Yes, we only want to - and this oil will have nowhere to go! The whole world lined up in front of the gates of the Mozyr Oil Refinery, it's just waiting for an invitation ... "However, in practice, everything turned out to be completely wrong: it was enough to dry the oil pipe coming from Russia, and the white polar fox with everything famous name. Belneftekhim (solely "to diversify supplies and provide for the domestic market," according to its representatives), has already begun to insolently select
technological
oil. So far, it seems, from those branches of the Druzhba oil trunk pipeline that are not involved in the transit of Russian oil to Western consumers. "This is our oil, it is in our pipes on our territory!" - Belarusians proudly declare, slowly shaking "black gold", which was not intended for them at all. And in general - Belneftekhim is now "considering" oil supplies from Ukraine, from Poland, the Baltic countries, Kazakhstan and Azerbaijan. "Soon we are!" "Soon with us" ... And so on. In fact, the only deal Minsk managed to really crank up was the purchase of 80 thousand tons of oil, which, if it does reach Belarus via Lithuanian Klaipeda, will prevent the Naftan refinery from bending. All! The rest is Russian deliveries, which some of our companies carry out at their own risk. In fact, a drop in the ocean.
The true, extremely unfortunate picture is revealed in the revelations of the Deputy Prime Minister of Belarus Dmitry Krutoy, who honestly admitted no later than February 11 this year: Minsk has no real contract for the supply of "black gold" from any sources! The word is right, even somewhere it's a pity that this official becomes, desperately trying to execute his party on the motive "Everything is fine, beautiful marquise": "Such interest arose in everyone in our country! It's not bad! Negotiations are ongoing all the time. There are no contracts yet, but all this may appear. Just while all the time something falls off ... "Hussars, be silent, I said! Lukashenko will have everything - both contracts and oil. There is already interest! But ... falls off. And everywhere and constantly. The US Secretary of State Mike Pompeo, not so long ago, vowed to promise to provide Belarus with 100% oil, apparently, too. In any case, flotillas of tankers tearing across the Atlantic under star-striped flags, trying to help Minsk, something has not yet been observed on the horizon. Oil from Russia will come sooner or later. Wanted world prices? You will get them! At the same time, judging by the available information, from now on, Minsk will have to deal exclusively with small companies that have arrived for every ruble, sorry in a word, they will be strangled. The Big Five of the Russian oil industry is inclined to consider Belarus, which has recently become excessively capricious and picky, exclusively, as a territory of transit to the West. Lukashenko will have oil. But he can definitely forget about the "beloved emirates" that were sweet to his heart, which allowed him to keep the country in a state of relative satiety and stability for so long. It fell off forever ...
Inevitable outcome
The "stretch" that Alexander Grigoryevich ultimately arranged for himself would hardly allow him to remain in balance, albeit unstable, for a long time. Even with all the mastery of his political acrobatics ... Return to the Kremlin with a "guilty head"? Alas, you will not return the destroyed one. Surely, Vladimir Vladimirovich, and other persons from those on whom the burden of making global decisions rests, have already made conclusions that are extremely unpleasant for Alexander Grigoryevich. And what will the return of relations "to one's own circles" lead to? To the rejection of the "tax maneuver"? To new concessions that will benefit Belarus and to the detriment of Russia? No, we didn't want brotherly - now it will be fair. Or - in all severity. That's how it goes. A complete break with Russia - right up to the scandalous "divorce" with the division of joint property under the motto: "Friendship - apart" ?! This will be pure suicide for Minsk in general, and for Lukashenko in the first place. Moreover, stopped oil refineries, soaring fuel prices and a rapidly emptying state budget by themselves will create such a social tension in the country that it will be easier for everyone to turn into mass performances (and there's more than enough of them!). If Washington finally and for certain believes in the fact that Alexander Grigoryevich no longer looms the formidable "shadow" of Moscow, he will immediately be let down by all the local "opposition" and other "zmagars". By the way, they have recently become quite emboldened and insolent just by the connivance of the "father".
I don't know about the oil, but Pompeo Minsk will definitely provide the filler for bottles with the so-beloved street "freedom fighters" of American training "Molotov cocktails". Fortunately, very soon there will be a suitable reason - the next presidential election. But this time, the West may categorically refuse to recognize them, declaring them "falsified" and "rigged". Well, and then - according to the well-established scenario ... It's another matter that such a turn of events does not smile at Russia in any form. Enough with us some "non-brothers" - dummies by our side. Yes, and people in Belarus are good - I feel sorry for them. An alliance with Belarus is necessary for our country - not so in
economic
interests, how many in geopolitical, and not so much for solving immediate issues, as with an eye to long-term prospects. In fact, Minsk has no choice as such. Given the current situation in the world, there are only two ways - either to go hand in hand with Russia into the future, tying ourselves with it in a more or less close alliance, or - to become a blazing and impoverished colony of the United States, like neighboring Ukraine. Oil is the third thing. In fact, the stakes are much higher here ...