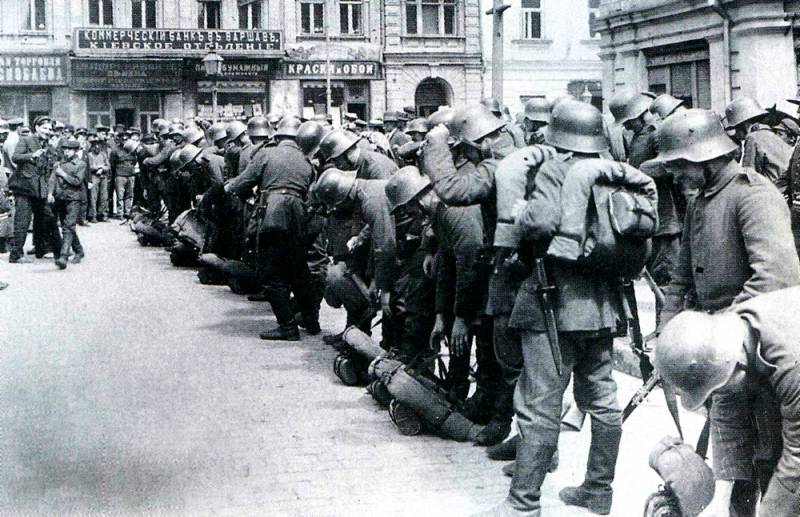 The peace of Brest, signed in 1918 and signifying the exit of Soviet Russia from the First World War, opponents of the Communists call it only an act of national betrayal. According to the document, the RSFSR lost a number of territories, was supposed to demobilize the army and navy, and also pay a large amount of reparations of the German Empire.
But what was behind this difficult decision and are anti-Soviet ideologists right? Let's figure it out.
At the end of 1917, the affairs of the central powers, in fact, like that of the Entente bloc, were not very good. However, the imperialist war was even worse for Russia. Already by November, more than 800 industrial enterprises had stopped their work, dependence on foreign military supplies was growing, and by the end of the year the eastern front had practically ceased to exist.
The further existence of Russia was impossible without the conclusion of peace. In October 17th, the Bolsheviks came to power. On October 26, at a meeting of the Central Committee, a "Decree on Peace" was adopted, which envisaged the end of the war without annexations and indemnities. However, the Entente countries refused to participate in negotiations with Soviet Russia.
The failure of the agreements meant the continuation of hostilities. But the RSFSR could no longer fight the old demoralized army.
According to Lenin, to save the revolution in Russia, a truce had to be signed on any terms. This would give recovery time.
economics
, armies and victories over the bourgeoisie within the country.
Given the weakening of Germany and Austria-Hungary, it was decided to drag out the negotiation process as much as possible. However, despite the growing strikes within the central powers, their armies remained strong and posed a serious threat to the RSFSR.
On January 11, 1918, at a meeting of the Central Committee, the formula "no war, no peace" received a minimal advantage. On January 28, a written statement was sent to the delegates of the central powers to withdraw from the war and to demobilize the army. In turn, this led to a complete halt in negotiations and the intensification of hostilities. The Russian army under the onslaught of the Germans began inexorably to roll east.
On February 23, 1918, the German government sent a telegram to Petrograd with new, more difficult conditions for concluding peace for the RSFSR.
On March 3, 1918, the Brest Peace Treaty was signed "oppressive" for Russia.
However, history has shown that Lenin made the right decision. Later, in November 1918, a revolution took place in Germany, which allowed denouncing the heavy contract.
At the same time, thanks to the signing of the Brest Peace, Russia was able to get out of the "meat grinder" of the First World War and avoid occupation by other countries. Moreover, it was precisely this "traitorous," as anti-communist ideologists call it, that the treaty became the starting point for building the future socialist state.