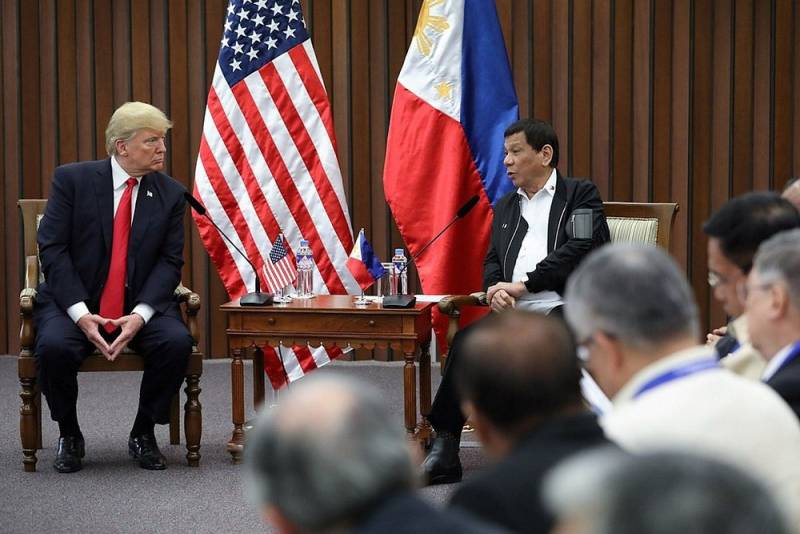 Philippine President Rodrigo Duterte has demonstrated that his words are not at odds with the deed and fulfilled his promise in January to terminate the treaty on the status of foreign armed forces with the United States.
The Philippines Deputy Foreign Minister said:
By order of the president, transmitted through the Executive Secretary of Salvador Medialdea, Foreign Minister Teodoro Loxin today signed a notice on the termination of the treaty on the status of foreign armed forces, which will be immediately transferred to the US Embassy in Manila.
This decision was made by the Philippine president after the United States refused to issue a visa to the Philippine Senator Ronald of the Rosa case, which was regarded as interference in the country's internal affairs.
US President Donald Trump quite calmly reacted to the decision of his Filipino counterpart.
TASS quoted Trump as saying during a meeting with reporters in the White House:
I do not mind this. We helped the Philippines fight IS *. I have a good relationship with their president [Rodrigo] Duterte.

Further, the American leader noted that such a decision by Duterte would save Washington a lot of money.
Recall that the Treaty on the Status of Foreign Armed Forces regulated the rules of entry and stay of the US military in the Philippines, and also served as the legal basis for conducting joint exercises in the country.
* Terrorist organization banned in Russia