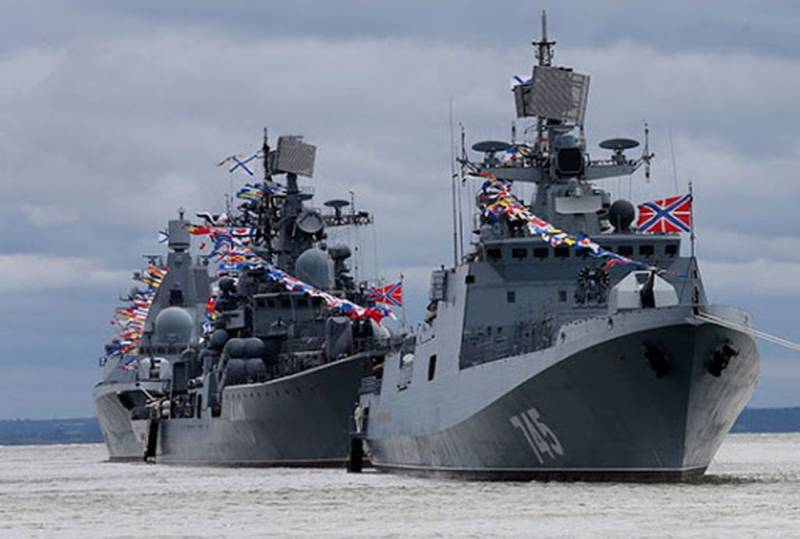 The American online edition of The Drive informed the public that the Pentagon (US Department of Defense) draft budget for the fiscal year 2021 (starting October 1, 2020) contains an interesting map. This map, published as part of the preparation of the US military budget, indicates increased activity of the Russian Navy and the Chinese Navy in the oceans. At the same time, the Pentagon did not delicately indicate which period of time is displayed on the map.
It should be noted that the US military wants to increase the defense budget for the specified year from the current $ 738 billion to $ 740,5 billion. For this, they regularly come up with various "threats" to fight which they need money. For example, the deployment of US sea or land missile defense systems at the borders of Russia and China or any other types of weapons causes a corresponding reaction in Moscow and Beijing. After that, American generals and admirals gallop off to the White House in Washington and show their supreme commander the rationale for spending. And this is a vicious circle.
It is noted that Russia has strengthened its presence in the North Atlantic, in particular, off the southeastern coast of North America, in the Caribbean, in the Mediterranean Sea and in the Arctic. In addition, an increase in activity of the Chinese Navy and its qualitative and quantitative growth are indicated. For example, over a decade, the Chinese Navy has grown from 262 to 335 surface ships. At the same time, Russia continues to invest intensively in the latest submarines.
Attention is also drawn to the fact that the Chinese Navy has intensified its activity near the Far East of Russia, in particular in the Chukchi Sea. But most of all, the Chinese are "active" in the South China Sea and in the Western Pacific.
We have a lot to defend against increasingly effective naval adversaries, which will create problems for our
economic
security and probably our lifestyle
- indicates The Drive.
Our global adversaries continue to build up their naval forces and expand their areas of operations and cooperation with each other. Other US rivals, including Iran and North Korea, use "asymmetric opportunities" to wreak "instability and uncertainty
- explains The Drive.
Naturally, The Drive does not specify what is meant by the "asymmetric capabilities" of Iran and the DPRK. But it is obvious that the US military-industrial lobby will be very grateful to the editorial board for such a useful publication. Moreover, due to a "strange" coincidence, many American admirals and generals after retiring get jobs in lobbying companies or directly in the military-industrial complex.