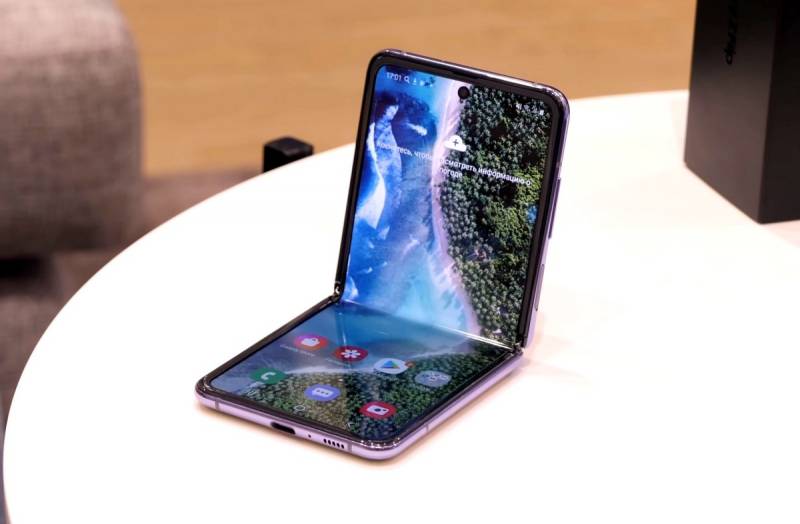 The South Korean brand Samsung on the eve showed another model of a flexible smartphone called Galaxy Z Flip. Unlike last year
Galaxy fold
, the new device is not folding vertically, but horizontally, resembling an old-school "cot".
In order not to repeat the opportunity that happened with the first version of the "butterfly", the Z Flip screen was equipped with an ultra-thin protective glass instead of a plastic film. At the same time, the 6,8-inch Dynamic AMOLED display received all the characteristics of modern flagships, with the exception of the 120 Hz update.
On the back of the top flap of the smartphone there is a miniature screen that allows you to receive notifications when the device is folded, and even take a selfie. The fingerprint sensor is located on the side frame.
Still new and expensive
technology
manufacturing flexible displays made the manufacturer to be more modest in terms of characteristics in order to somehow squeeze their brainchild into an "acceptable" price category. As a result, a unique clamshell was equipped with last year's Snapdragon 855+, 8 GB of RAM and 256 GB of physical memory. The main camera received 2 modules of 12 megapixels, the front - 10 megapixels. The battery capacity is only 3300 mAh.
However, no matter how hard they tried to "save" at Samsung, the price of the Galaxy Z Flip was not available. You can buy a smartphone for about $ 1380, which is comparable to the iPhone 11 Pro Max. However, if you compare the new product with a similar Motorola RAZR gadget, which is significantly inferior in characteristics, the latter will cost you 100 more.