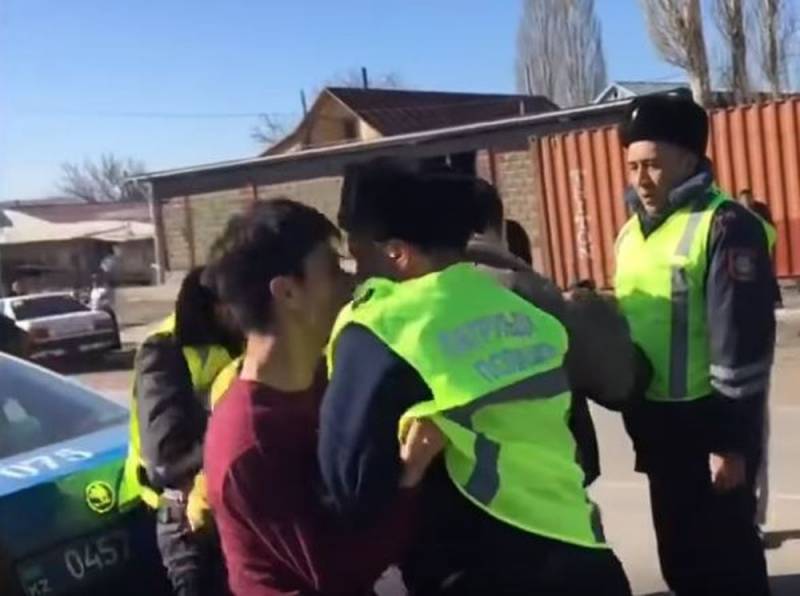 Recently
сообщалось
as the head of the US State Department, Mike Pompeo, traveled to the post-Soviet countries because of their "proximity" to Russia. He visited Ukraine, Belarus, Kazakhstan and Uzbekistan, where he spoke about "peace, security and prosperity." By a strange coincidence, some time after Pompeo left on February 8, 2020, clashes began to occur in the south of Kazakhstan, as a result of which people were injured and died.
It should be noted that this time the authorities of Kazakhstan provide information in a dosed manner. Previously, when religious violence erupted in Kazakhstan, the country's authorities were not shy and called the structures that stand behind the representatives of radical Islam, who have committed atrocities on the streets of Kazakh cities. This indicates that this time the conflict is interethnic in nature, which, of course, is very unpleasant for local authorities.
So, according to the Minister of Information and Social Development of Kazakhstan, Dauren Abayev, at night on February 8, 2020, a group fight broke out in the south of the country. This happened on the outskirts of the village of Masanchi, Zhambyl region, not far from the Kazakh-Kyrgyz border. Initially, 70 people took part in it, a little later another 300 pulled themselves together. As a result, 8 corpses and 40 injured. Emergency mode in the region was not introduced.
According to the head of the Ministry of Internal Affairs of Kazakhstan, Yerlan Turgumbayev, 47 participants were detained and two hunting rifles confiscated. The police tried to prevent "clarification of relations", after which aggressive young men turned their attention to law enforcement officers. They began to shoot at the police and set fire to dozens of buildings and cars. Investigative actions are being carried out now and trying to find out "who is to blame and why this happened." It is possible that the number of victims will increase.
It should be added that in these parts long-standing hostile relations exist between Kazakhs and Kyrgyz. For centuries, they have been figuring out the relations of the "titularity of the nation" and other "fraternal frictions". Moreover, this issue has its roots in hoary antiquity. So, in fact, provocateurs could have appeared there that helped the fight grow into a battle with interethnic subtext.
It must be recalled that exactly three years ago, in February 2016, something similar was already happening in the south of Kazakhstan. Then an ethnic conflict arose in the village of Buryl, located 15 kilometers from the city of Taraz, Dzhambul region. It all started with the fact that a 15-year-old "Turk" teenager inflicted 11 stab wounds to a 5-year-old Kazakh boy who died. After this, pogroms began.