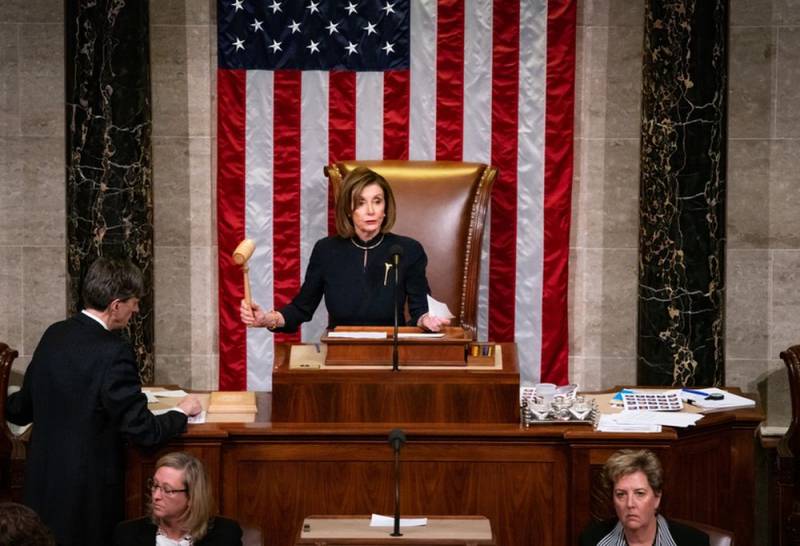 Recently
сообщалось
as US President Donald Trump, having entered the Congress premises for his annual address, he defiantly did not shake hands with House Speaker Nancy Pelosi, one of the initiators of the impeachment process for the head of state. After that, Pelosi also defiantly cut off Trump's speech in front of the audience and millions of spectators, although she could, they say, hit Trump with a hammer. And so, Trump reacted to the speaker's demarche.
According to Trump, Pelosi, breaking the text of his speech, violated the law and procedure, and also openly disrespected the audience and the whole country. He is sure that the speaker has committed a crime, since the text of the speech is an official document and cannot be destroyed.
I think she did a terrible thing. What she did is illegal. She committed a crime
- passes the words of trump the American edition of The Hill.
At the same time, lawyers interviewed by The Hill do not agree with Trump. For example, former federal prosecutor Glenn Kirchner said that Pelosi did not commit any crime because she did not tear up the original speech of the president, but a copy, i.e. This law does not prohibit.
It should be noted that Pelosi's protest with tearing up Trump's speech was really spectacular and memorable. This happened at the moment when Trump finished speaking and those present began to get up and applaud. Trump pretended not to notice what happened. Later, he convinced the public that he had learned about what had happened after he left the hall.
At the same time, opponents of Trump from the US Democratic Party believe that Pelosi still restrained, because this lady is known for her "cool temper." For example, she could easily publicly hit Trump with a special wooden hammer, for disrespect for her. After all, Trump himself violated the procedure without shaking the speaker's hand. Moreover, the commentary hinted that "it was okay, given the alternatives," which she made after the incident, as if to confirm this.
In addition, Pelosi could scratch or bite Trump. So we will follow the development of events with undisguised interest. Moreover, the Senate found Trump not guilty and the impeachment failed. The next US presidential election should be held in November 2020, so we will no doubt have a lot of interesting things to do.