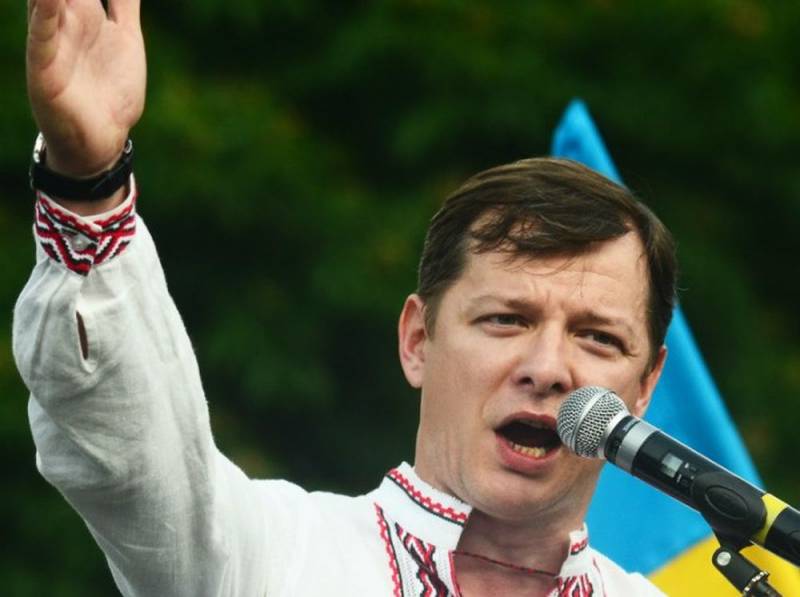 Flying past the Rada "like plywood", the Ukrainian non-traditional "patriot" Oleg Lyashko decided to remind himself of the "ungrateful" Ukrainians again. This time, on February 7, 2020, on the talk show "Voice of the People" of the "112 Ukraine" TV channel (owned by oligarch Viktor Medvedchuk), he told how the current Ukrainian authorities are deceiving citizens and manipulating the "gas issue", appropriating the merit of reduction prices for "blue fuel".
Today we pay a slightly lower gas price. There is no merit of power in this. When the prime minister, when the government, when they all talk about how good they are, because they cut the price of gas, this is a hoax to people. The price in the paychecks fell slightly for one reason: because the price fell in Europe
- said Lyashko.
At the same time, Lyashko clarified that residents of the "independent" will again have to pay more for gas, as soon as the price of gas on European exchanges rises. What is surprised by the "patriot" —dog-dog — is not entirely clear, because it was he who, wearing an embroidered shirt, aggressively advocated for a "bright European future" with a pitchfork in his hands. Whether the dog Linda shares the values ​​of his master remains unexplained.
It should be added that before this, Igor Novikov, adviser to the "father of the nation" Vladimir Zelensky, in obscene form, reacted to high gas prices for residents of Ukraine. On his Facebook page, he published a photograph of a receipt for January 2020, where the price of "blue fuel" was more than 6,9 thousand UAH. for 1 thousand cubic meters m
He criticized the Ukrainian government, accusing officials that they promised a price of gas in January in the amount of 4,65 thousand UAH. for 1 thousand cubic meters According to Novikov, Naftogaz Ukrainy is to blame for this, which bought gas at a higher price in the summer of 2019 and now sells it without harming itself. After which he promised to transmit the relevant certificate to the head of state.