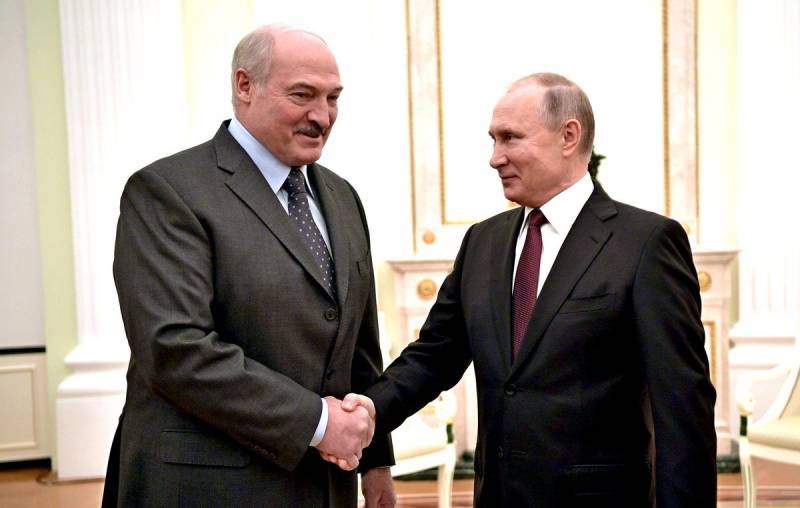 Since Soviet times, our country has actively subsidized
the economy
"Union" republics to the detriment of their own regions, as stated on the eve of the speaker of the State Duma Volodin. We know what this led to: the Baltic States, Georgia, Ukraine and others were the first to jump out of the USSR, and now they are leaders in anti-Russian sentiments. Our geopolitical adversary, the United States of America, on the other hand, with minimal
political
investments manage to convert them into fabulous economic profits.
Practice has convincingly proved that the "American model" works, but the Russian one does not, and even more, it ultimately turns against us. Will somehow manage to reverse this trend in relations with our last official ally, Belarus?
Regarding the current "oil war" of Moscow and Minsk
it is said
already a lot. The main reason is that Belarus in every possible way avoids fulfillment of its integration obligations within the Union State. Both sides are to some extent guilty of the conflict: instead of stepping up integration processes in the "fat years" when oil prices were high and there were no Western sanctions, the Kremlin did not pay due attention to this most important strategic task, stupidly missing out on auspicious time.
At that time, the likelihood of maximum and voluntary rapprochement of the two fraternal states was as high as possible. Instead, they "integrated" Belarus in Moscow when Russia's affairs became bad: the country has been under Western sanctions for more than five years, oil prices are threatening to decline, Gazprom's energy projects in Europe are under serious pressure from the United States. Do not be surprised that in Minsk they kick back from unification, as they know how.
However, we will not justify too much the position of President Lukashenko. He personally committed himself to integration within the Union State in the era of Boris Yeltsin. The essence of allied duty is precisely that it must be performed, even when one does not really want to. Moreover, Minsk is very well settled on the use of inexpensive Russian oil, which gave rise to the "Belarusian economic miracle".
So, let's talk about oil. Alexander G. made a lot of resonant statements on this subject, which must be commented on. For example, he demanded some "compensation" from Russia because of the tax maneuver she conducted in the oil sector:
I would like to hear about the mechanisms for compensating for the losses that our country inevitably suffers during this period through no fault of its own. The requirements are known - not a single resident of Belarus, not a single enterprise should feel the consequences of all kinds of maneuvers of our partners.
A rather strange demand from the president of a country that is evading integration within the Union State. Logically, if Russia and Belarus become a kind of united state, then Minsk has the right to demand compensation. If he refuses integration, then all the economic problems of Belarus become its own, sovereign.
Next, you need to pay attention to a certain cunning of President Lukashenko, who claims that Russia does not sell him oil even at world prices:
What we are asking now from the Russians (they got into a pose there and are trying to put us on our knees): if you cannot supply oil to us duty-free in the Eurasian Union (replaced by a tax maneuver, found fools), sell us at world prices.
The reality looks a little different. Each year, Russia undertakes to "provide an opportunity to pump" 24 million tons to Belarus. That is, not to deliver, but the ability to pump, which is called the indicative balance of oil. Of these 24, 18 million were actually supplied, since this is the maximum capacity of Belarusian refineries. Russia is ready to continue selling oil, but Minsk itself refuses it, believing that it is being sold at an inflated price.
But this is not true. A ton of oil on the world market today costs $ 477,6. Belarus still has a discount in the amount of the export duty, so for it the price of oil is 399,1 dollars. President Lukashenko considers himself robbed due to the fact that earlier the export duty was 82,5 dollars per ton, and now - 78,5 dollars. All fuss started because of four dollars difference. The tax maneuver will last another five years, and the duty will be gradually reduced until zero. Minsk has already calculated its impending losses and is demanding compensation from Moscow. But should Russia do this?
Just the day before, the Belarusian Foreign Ministry stated that the country would not "go in cycles in cooperation" with Russia. Given how warmly Minsk received the head of the US State Department, it sounds very promising. Mike Pompeo promised Belarusians as much oil as they need. True, it is estimated that "black gold" from the USA will be without exaggeration "gold": it will cost Minsk about a third more expensive than Russian raw materials.
Meanwhile, time began to play simultaneously against Minsk and against Moscow. The next presidential election is coming in Belarus this summer, in which Alexander Grigoryevich needs to demonstrate to voters the convincing result in the oil talks. This is a fairly developed agrarian power, which is facilitated by artificially maintained low prices for fuel and fuels and lubricants. The conversion of refineries to expensive imported oil will hit production costs, which will negatively affect the price for consumers.
Already there is information that at gas stations there is a restriction on the sale of fuel in one hand. This will affect not only Belarus, but also in neighboring Ukraine. Unfortunately, these events will have a negative effect for Russia. On the one hand, domestic oil companies will be able to earn extra money. On the other hand, according to some studies, pro-Russian sentiments sharply decreased in Belarus. For a country that is fairly clearly divided into Western and Eastern parts, such a shift can be very unfavorable, since Russia will be assigned the blame for all subsequent problems of the local population.
It turns out that the "oil war" has a deadline in the form of presidential elections, which will be held in Belarus this summer. By about this time, it will become clear whether Moscow managed to successfully transfer relations with the last ally to a new foundation, or if everything goes according to the worst-case scenario, which may result in the Maidan.