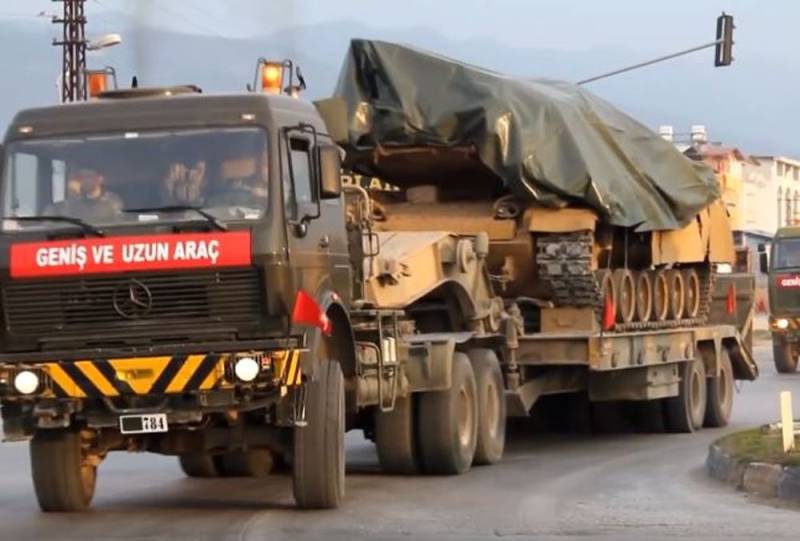 Turkish President Recep Tayyip Erdogan recently
stated:
"Now we are on our own," after which he accused Russia of violating the agreements on Syria. And so, on February 2, 2020, Al Arabiya TV channel (UAE) informed the public that the new Turkish military column
equipment
crossed the Syrian border.
As it became known, this column consists of several tens (at least 40) units of armored vehicles, including tanks. The column passed through the Kafr Lussein checkpoint in the northern Syrian province of Idlib.
Before this, on January 28, 2020, through the same checkpoint, a Turkish army convoy entered the territory of Syria in the amount of 30 units, including 12 armored vehicles. This convoy headed south of the mentioned Idlib province to cover the pro-Turkish Islamist militants, various "Warmacs" and "moderate" terrorists from the advancing parts of the Syrian Arab Army (SAA).
At the same time, the earlier satellite channel Al Mayadeen (Lebanon), which is a competitor to Al Arabiya, reported that the advanced CAA units blocked several observation posts of the Turkish military. The first is in the village of Maar-Khattat, located south of the city of Maarret-en-Nuuman in the southeast of Idlib, an outpost of the coalition of the Khayyat Tahrir al-Sham groups (Tahrir al-Sham, HTSH) led by the terrorists Jebhat-en -Nusra "(an organization banned in Russia), and the second in Sarman, in the same province.