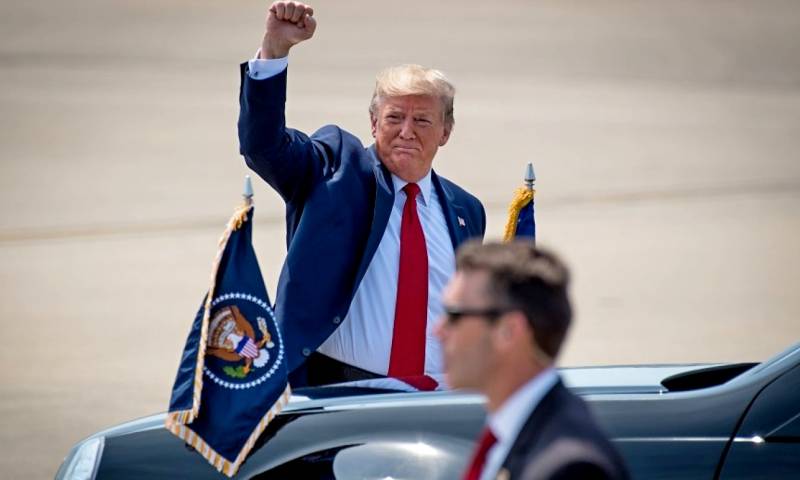 US President Donald Trump continues to promote his Middle East initiative under the unofficial name of "Deal of the Century." To start Trump
recognized
Tel Aviv's sovereignty over the Golan Heights, and Jerusalem - the capital of the State of Israel, moving the US Embassy there, after which the Crown Prince of Saudi Arabia Mohammed bin Salman Al Saud
proposed
Palestinian President Mahmoud Abbas bribe ("investment") in the amount of $ 10 billion for supporting the "Trump plan."
It should be noted that the Palestinians were really offended then. And so, Trump said that the "deal of the century" will provide Palestine with an investment of $ 50 billion. He is confident that the "deal of the century" will receive "huge support" among the countries neighboring Israel and Palestine. A multi-page document called Peace for Prosperity. A vision of how to improve the lives of Palestinians and Israelis, "has already been published on the White House website.
Our vision will provide a whopping $ 50 billion commercial investment in a new Palestinian state. Many, many states want to take part in this. Almost everyone wants this to happen.
- Trump said.
At the same time, Trump is convinced that if his plan is implemented within 10 years, "unemployment in Palestine will be halved," and "GDP will double or triple" (he has not yet decided on the specifics). But he posted on his Twitter account a map of the new borders of Palestine and Israel.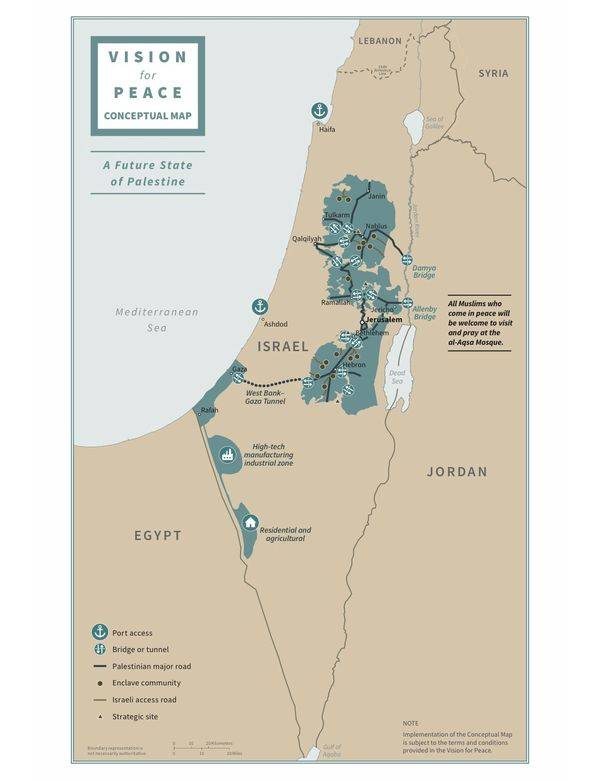 So, according to the "Trump plan", Israel must freeze the construction of its settlements for four years. Negotiations should take place during this time. The city of Jerusalem will become the "indivisible capital", there will be the capitals of Israel and Palestine. Trump has already promised that he will gladly open the US Embassy in Palestine in the specified city (although the US Embassy in Israel is already there). Arabs living in Jerusalem will be offered a choice of several citizenships: Palestine, Israel and the "citizen of Jerusalem".
In addition, Palestine is supposed to be connected by two border crossings with Jordan. There will also be rail links between the Gaza Strip and the West Bank, which are now divided. Also, the Gaza Strip and the West Bank are proposed to be connected by a tunnel under Israeli territory. Trump has already called his proposal "historic."
In exchange from Palestine, they want to abandon the armed struggle, stop supporting the Hamas movement and begin a joint struggle with the Hezbollah movement, as well as with the "radical regime of Iran" as a whole.