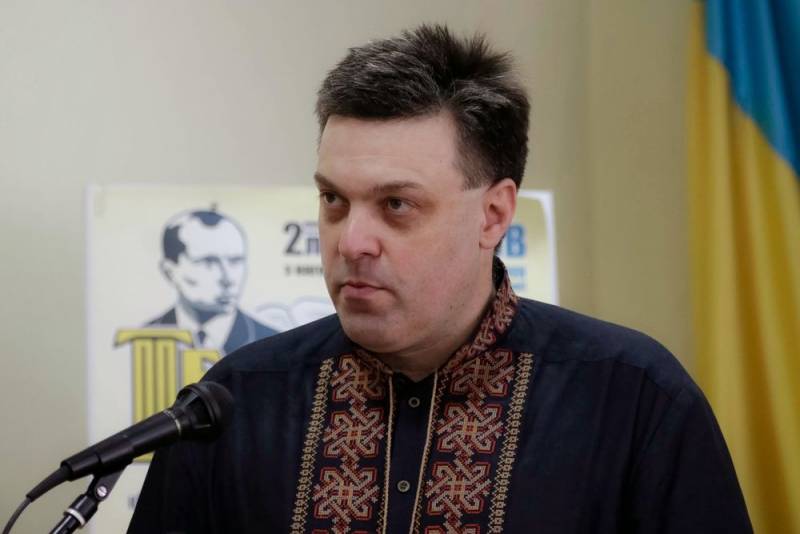 Recently
сообщалось
how Polish anti-Semitic Russophobes began to demand from Russia "compensation for damage" in World War II. Therefore, it is not surprising that their Ukrainian colleagues also began to beg for something. For example, on January 27, 2020, frank Nazi Oleg Tyagnibok, leader of the nationalist party "VO" Freedom "(for some reason banned only on the territory of the Russian Crimea) wrote in his Telegram channel that Kiev should follow the example of Warsaw and demand from Moscow" reparations".
Tyagnibok explained that the other day the leader of the ruling Polish PiS party, Yaroslav Kaczynski, demanded from Russia "reparation" for World War II. In addition, even Latvia, Lithuania and Estonia put forward their demands on Russia. At the same time, he was indignant that the Ukrainian authorities "did not even stutter about this."
Although Muscovy (Russia - ed.) Owes us, like no one. And not only for the Second World War. But also for the occupation in the last century. For dispossession and collectivization, for three famines and tens of millions of Ukrainians destroyed. For the savings stolen from Sberbank, for our parts of the diamond fund and the gold and foreign exchange reserves of the USSR. For the destroyed Donbass, occupied Crimea and their restoration
- wrote Tyagnibok.
After that, Tyagnibok recalled that since 2018 in the Verkhovna Rada of Ukraine there has been a draft law "on the succession of Ukraine to the UPR", one of the points of which is the requirement for payments from Russia. Tyagnibok said that the current government ignores this document and "instead of fighting the enemy, continues to flirt with it", increasing trade relations.
But Tyagnibok is sure that "this does not mean that everything is hopelessly lost." Therefore, like the Poles, the Ukrainians "will take their own."
Let not now, not with this power
- summed up Tyagnibok, whose party, having teamed up with other Nazi groups, gained in the last parliamentary elections less than the party of blogger Anatoly Sharia.
It should be noted that, unfortunately, the Ukrainian "patriot" forgot to mention that it was Russia after the collapse of the USSR that took upon itself the debt obligations of all the republics included in it, including the "independent" one. As for the "tens of millions destroyed", during the "independence", Ukraine really lost tens of millions of inhabitants.