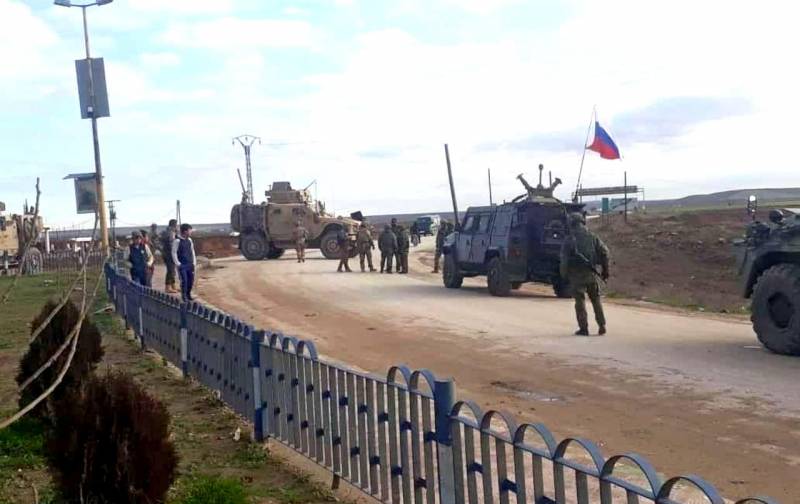 Recently, reports of a clash between the Russian and American military in Syria are becoming more frequent. Often this is presented as if the "battlefield" remained with the United States, and the Russians ignominiously retreated. Should our military in response to another provocation in the SAR to arrange a massacre?
What kind of cases of real or imaginary collisions are we talking about?
So, more than a year ago during an operation in the province of Aleppo near the city of Manbij, the US military actually detained a major general of the Russian army. After checking the documents, he was released. Last December, the Syrian Observatory for Human Rights (SOHR), headquartered in the UK, reported an incident in Hasek province. According to them, the Syrians were very inhospitable to meet an American military patrol. Later, their Russian colleagues arrived at the scene, who sided with the local population. Word for word, and, according to SOHR, a fight broke out between ours and the Americans.
Further, on January 18, the US military blocked the road for Russian soldiers moving to the Rumeilan oil field, which we will discuss in detail
told earlier
. Our military was forced to turn in the opposite direction. Almost at the same time, the Americans blocked the highway in the direction of the Syrian-Iraqi border. The number of such incidents is clearly increasing. According to the latest information, between them there could even be a shootout in the province of Hasek. True, both parties at the official level refute this message.
How is it worth responding to all this?
The fact is that Russia and the United States, being geopolitical opponents, prefer not to directly fight among themselves. Nuclear arsenals oblige to be careful. Clashes between the two powers have always occurred indirectly: in Korea, Vietnam, and Afghanistan. In Syria, our military are in direct contact almost daily. At the same time, the American command openly abuses the unwritten rule to avoid direct conflict, "encircling" the Russians on all sides with cordons in order to achieve the best disposition for themselves.
Perhaps the Russians should pay back to their foreign colleagues with the same coin, blocking the path somewhere for themselves to level the score. It is doubtful that they will break through force. Still, to shoot military personnel of the Ministry of Defense of the Russian Federation on the road is not at all like bombing a detachment of mercenaries who are unable to give a clear answer at night.