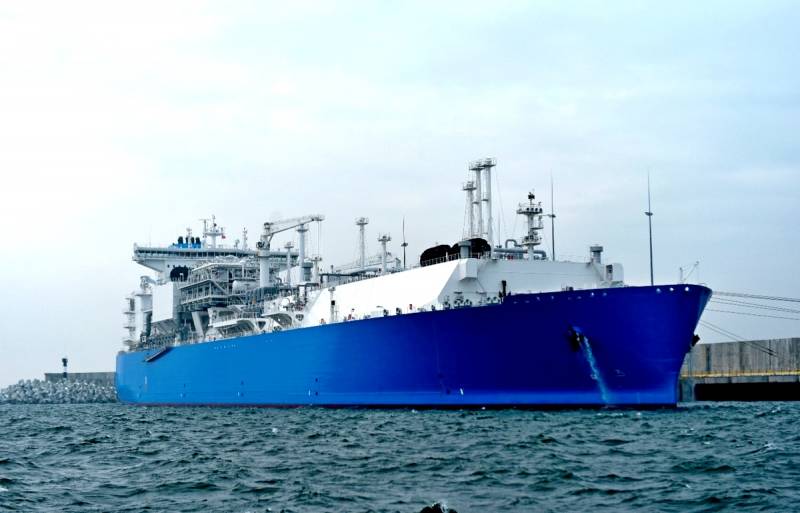 Since this year, Ukraine has moved to the European rules of the game in the gas market. Due to an excess of gas in underground gas storage facilities and an abnormally warm winter, prices for blue fuel in the EU are low. "Building on success," Kiev signed a contract for the supply of American LNG from Poland. It would seem that this is happiness, but for some reason gas prices for the Ukrainian industry and population are not going to decrease. How did it happen?
As it was
Since 2015, for political reasons, Kiev has not been dealing directly with Gazprom. Despite this, purchases of Russian gas actually continued according to the "virtual reverse" schemes from Hungary, Slovakia and Poland. At the same time, neighbors had to overpay for their services.
In the case of Poland, it looked as follows. According to the previous transit agreement, the amount of gas that entered the pipe in Nezalezhnaya should have been fully consistent with the amount that it exited in the European Union. This was checked by measuring stations, which guaranteed the inability to "snoop" imperceptibly "blue fuel". How then did Russian gas remain in Ukraine?
The fact is that on the border with its European neighbors Kiev has looped gas pipelines. Thanks to them, gas was driven into the EU, and then returned back as "European". According to the counters, everything was right, in fact - manipulation. But this gave Kiev reason to say that he did not buy gas from Gazprom.
In fact, as Ukraine consumed 10 billion cubic meters of Russian fuel per year, so it consumes. Moreover, the construction of an additional energy ring with a capacity of 5 to 8 billion cubic meters is planned on the border with Poland.
How it became
Since 2020, everything has become even more interesting. As you know, Poland is quickly turning into a large regional gas hub. Warsaw has also built an LNG terminal in Swinoujscie with a capacity of 5 billion cubic meters per year. It is planned to increase its volumes by one and a half times, and the possibility of building a second LNG terminal is also being considered. For these capacities, Warsaw has been contracted over the coming decades to supply LNG from the USA and Great Britain. By the way, the Poles plan to receive an additional 10 billion cubic meters of gas per year through the promising Baltic Pipe from Norway.
Kiev is showing interest in US LNG from Poland, which could reverse. Sergey Makogon, head of the "Ukrainian GTS Operator", states:
We can import the entire volume that goes through Ukraine to Poland. Today, 9 million cubic meters of gas goes through us to Poland, therefore, these same 9 million cubic meters can be imported through the virtual reverse mechanism. And this is 3,2 billion cubic meters per year.
In fact, this is another manipulation. LNG for Ukraine will be "American" only on paper. In fact, Nezalezhnaya will continue to consume Russian gas, probably even increasing it, as evidenced by its intention to build an additional "energy ring" on the border with Poland.
With all this, the formal "transition" to the "democratic molecules" of American LNG will not have a beneficial effect on the Ukrainian
the economy
. There are too many intermediaries in Kiev who earn on original schemes, which makes them profitable for high domestic gas prices.