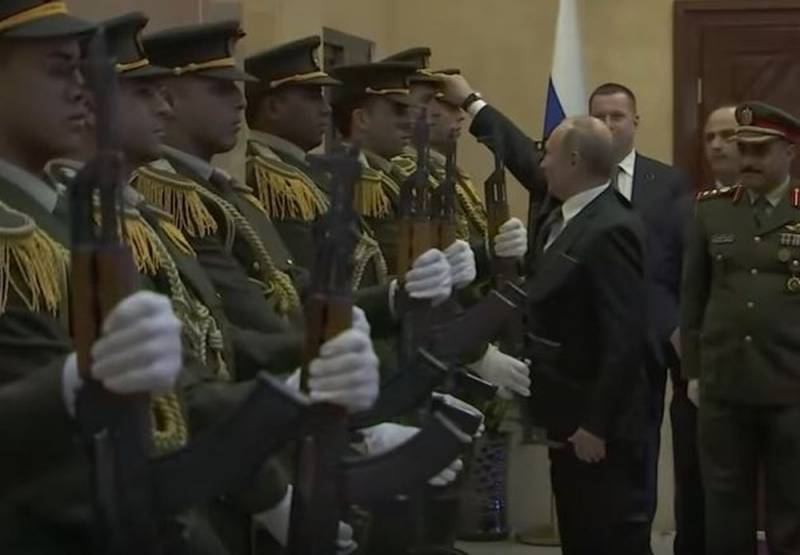 On January 23, 2020, Russian leader Vladimir Putin arrived in Bethlehem to negotiate with Palestinian President Mahmoud Abbas. At the residence of the Palestinian leader, Putin was waiting for a gala reception with the participation of an honor guard.
As the presidents of Russia and Palestine walked along the line of lines, a cap fell off a Palestinian military. The soldier stood at attention in front of the passing heads of state, so at that moment he could not raise his cap. Putin passing by drew attention to this and bent down to pick up his cap from the floor, after which he put it on the head of a Palestinian soldier. At the same time, Putin smiled and made a gesture around him to understand that everything was fine by lifting his thumb up.
The video of this episode was made by the personal photographer of the Palestinian President Muhammad Atik. After that, he posted this video on his Facebook, signed it:
President Putin's Respect for the Palestinian Guard.
Naturally, journalist readers and web users who were interested in the visit turned their attention to what had happened. They expressed admiration to Putin, and the Palestinians wrote that they were glad to see such a man on their land.
With respect and appreciation, welcome, dear guest, President Putin.
- wrote by Ahmad O Manasra.
Reader Eyad Abu Ali wished Putin good health, and Naser Ali Agag expressed respect to the Russian leader. By the way, the expressions "Welcome", "respect for you" were used in a large number of comments.
It should be added that in the process of communication, Putin officially invited Abbas to Moscow to celebrate the 75th anniversary of the Victory over Nazism, which should be held on May 9, 2020.