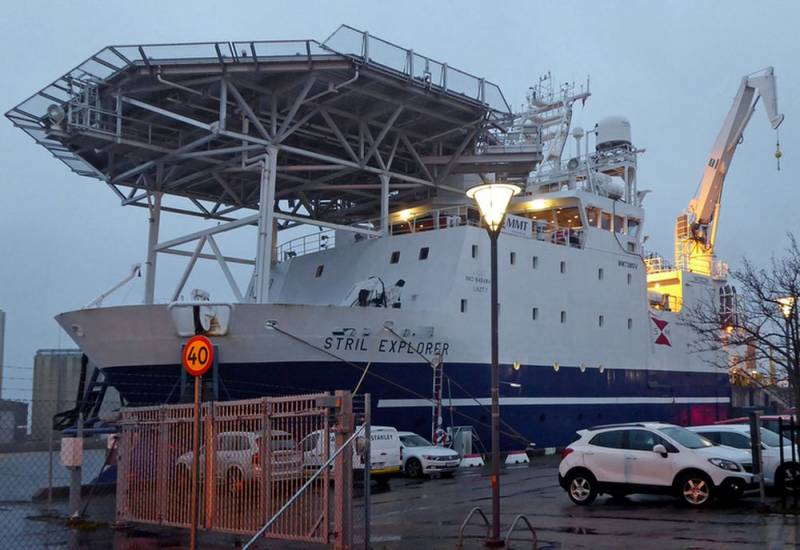 On January 23, 2020, marine monitoring resources reported that near the unfinished Nord Stream-2 gas pipeline there is a multifunctional offshore support vessel Stril Explorer (Norway flag, 2010, IMO: 9484845, MMSI: 259006000). This is an inspecting vessel, it is involved in monitoring the pipelines and is not subject to Washington sanctions.
It should be noted that in 2015, the Swedish MMT Sweden leased the specified vessel from the Norwegian company Simon Møkster Shipping. In 2017, Nord Stream AG entered into a three-year contract with MMT Sweden for an external inspection of the Nord Stream gas pipeline. At the same time from Nord Stream 2 confirmed
RBC
that the said vessel carries out inspection work also on the Nord Stream-2 gas pipeline.
Stril Explorer passed along the Nord Stream-2 gas pipeline and is now located near its unfinished section in the territorial waters of Denmark. All contract details with MMT Sweden are not known. However, it is known that usually a Stril Explorer inspection of a vessel involves visual inspection and instrumental inspection of pipelines using remotely controlled underwater vehicles (ROVs) along their entire length.
We remind you that on January 11, 2020, Russian President Vladimir Putin, at a press conference in Moscow, following talks with German Chancellor Angela Merkel, said that due to US sanctions, the completion of the construction of Nord Stream-2 would shift slightly, "but in the end this year or at the beginning of 2021, it will work. "