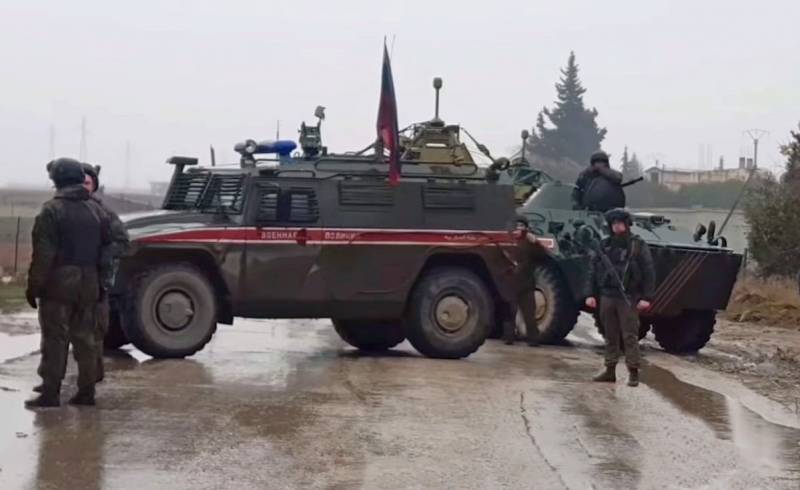 On the eve of a rather unpleasant incident in Syria. The Russian military police, located in the SAR by agreement with Damascus, were not allowed to enter the oil field by the American military, de jure and de facto interventionists and occupiers on Syrian soil. So how should you relate to this event, and what conclusions can be drawn from it?
In certain circles, it's fashionable to mock about it, saying, "Americans have slowed down and deployed ours." Yes, it's unpleasant, but the question is, what was the alternative supposed to be? "Get the trunks and all go down"?
The United States today is objectively the militarily strongest world power. It should be recalled that last February they did not hesitate to bomb the "Wagnerites" who were trying to recapture the Kurdish oil field and refinery in the province of Deir Ez-Zor. The data on the losses vary widely, but President Donald Trump later personally claimed "hundreds of dead Russians."
Mercenaries from Russia then became a bargaining chip in this hybrid war with the United States. If our military and police officers on the line of the Ministry of Defense of the Russian Federation "put" the Americans yesterday, then this would be regarded as direct aggression with all the ensuing consequences, right up to the war with Russia. Is our country ready for such a test, and is it worth arranging something like this because of the "road showdowns" in faraway Syria?
The confrontation between the USA and the USSR, and now the Russian Federation, the two nuclear powers with the largest arsenals, has always proceeded indirectly, on foreign territory. It is possible and even necessary to give change, but it is desirable with the wrong hands, through proxy structures.
For example, in Syria, the Americans are absolutely illegal, engaging in the same illegal, so to speak, "oil business". They trite the Syrian people, pumping out the oil belonging to them, transporting it to neighboring Iraq and selling it there. No mining licenses, no taxes: crime in its purest form. In neighboring Iraq, after the massacre of Iranian General Suleimani, the local authorities adopted a resolution demanding the withdrawal of US troops from its territory.
It turns out that in both countries the US military is illegally, being commonplace invaders and robbers. It will not be surprising if, within the framework of the national liberation movement, the Syrian and Iraqi militias and partisans start to "tune the tail" to the interventionists until the withdrawal of troops becomes more expedient than further stay in Syria and Iraq. When the columns of fuel trucks begin to burn and undergo regular shelling of local partisans of the US base, the Pentagon will have to reconsider its strategy, and the American military will have to behave less defiantly on a foreign land.