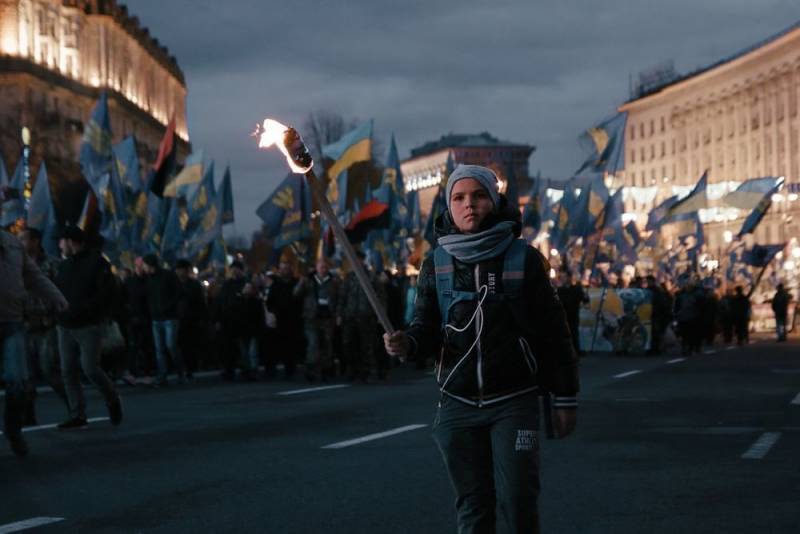 On January 19, 2020, the Ukrainian Embassy in London in a hysterical manner demanded that UK law enforcement authorities exclude the trident depicted on the emblem of Ukraine from the list of extremist symbols. In addition, the diplomatic mission wished the British to apologize to the "Ukrainian state", since in this case "no explanation is unacceptable."
It should be noted that the indignation of the Ukrainian side is not entirely clear, because the British simply legally recorded what has been known to the whole world for more than five years. The outrage of the "Ukrainian patriots" caused an update to the British police manual, which is a kind of reference for law enforcement officers and other specialists.
It is used in various situations, i.e. when questions arise, they look into it and find the answers. In the indicated document, in the "tattoos" section, there is a drawing on the human body with the image of a trident.
Ukrainian trident (nationalist)
- indicated in the explanation under the figure.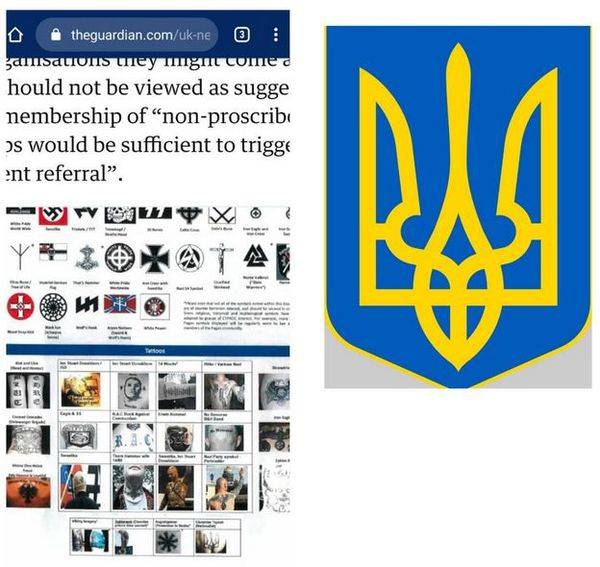 The inclusion of a trident, the constitutional symbol of the coat of arms of Ukraine, in a manual on extremism for British teachers and medical personnel prepared by the counterterrorism police is extremely outrageous. We demand that the trident be excluded from the allowance and a formal apology be made
- says in the Twitter account of the Ukrainian Embassy in London.
By the way, while the Ukrainian Embassy does not insist that other symbols close to them be removed from the mentioned manual. There are a large number of different images that "Ukrainian patriots" like to draw on their bodies.
In turn, Dean Haydon, senior national coordinator of the UK counterterrorism police, has already commented on the claims of the Ukrainian Embassy in London.
It (in the manual - ed.) Clearly states that many groups are not interesting from the point of view of counter-terrorism, that membership in them does not mean any crime. Assuming anything else is impractical and misleading
said Haydon.
He specified that the manual is specially designed to help the police, so that law enforcement officers can identify (understand, distinguish) certain symbols and signs that they may encounter in their daily work.
It must be recalled that before that, the British police recognized eco-activists as extremists. The British Embassy in Kiev is still calm.