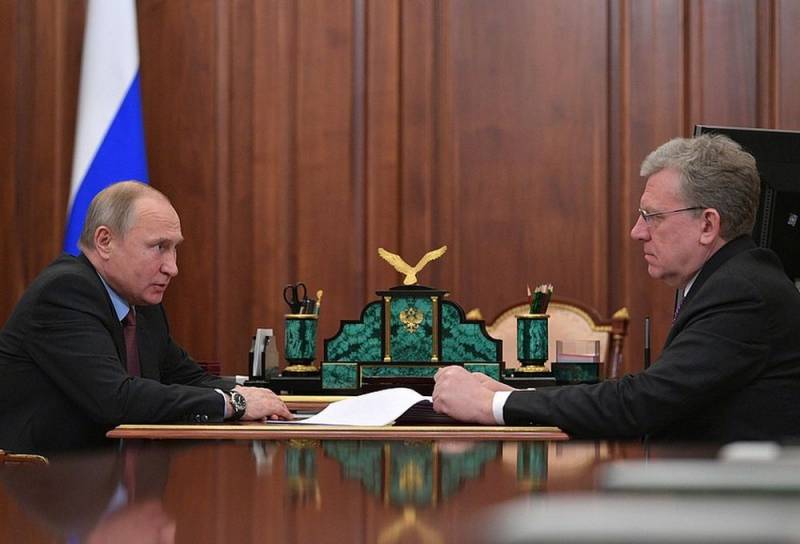 On January 16, 2020, the head of the Accounts Chamber of Russia Alexei Kudrin, speaking at the Gaidar Forum, commented on the amendments to the Constitution proposed by the Russian leader Vladimir Putin. He also appreciated the possible change in the role of parliament, the resignation of the government of Dmitry Medvedev and the candidacy of Mikhail Mishustin for the post of prime minister.
Kudrin is convinced that "there is a need to increase the role of the prime minister and his status." He clarified that voiced by Putin
questions
, in themselves, suggest the strengthening of the powers of parliament. Therefore, it is logical that the head of government will be more accountable to parliament. According to Kudrin, the announced change of government in Russia gives hope that the new team will be able to do much more and implement the necessary reforms in the country.
Just yesterday, the change of government in many countries increased the hope that the new government team will be able to do more, achieve more ... There are a number of such factors that indicate that we have more hope in anticipating a number of reforms. Today we have hope
- said Kudrin.
Kudrin believes that the turnover of leaders, including the head of government, is an essential element in increasing confidence in the government as a whole. So the new team will have a chance to implement their program.
There is the development of their own institutions, that is, their programs, there is fatigue, failure to fulfill various promises. And a new team always comes with new ideas, it receives support for its program, it receives a mandate to carry out its reforms
- explained Kudrin.
Kudrin also described the candidate for head of government Mishustin, who now heads the Federal Tax Service (FTS) of Russia. He noted that Mishustin is a balanced leader who is able to maintain a balance of interests of the state and entrepreneurs.
The leader who was proposed to the government yesterday feels the business situation today, is able to balance the interests of business and the state
- expressed his opinion Kudrin.
Kudrin added that Mishustin, being the head of the Federal Tax Service, "managed to work out certain tax administration mechanisms," which "ceased to be in the first lines of business problems." In addition, Mishustin "feels that nerve of digitalization" and understands the meaning
of technologies
for development
economics
, which is an important factor (quality).
It should be recalled that for many years the Russian media have called Kudrin one of the likely candidates for the post of prime minister of Russia. Between September 24, 2007 and September 26, 2011, he was even deputy chairman of the government. Moreover, recently, Valentin Yumashev, who headed the administration of Russian President Boris Yeltsin in the late 1990s
confessed
that it was not he who found Putin as a candidate for Yeltsin's successors, but this was done by Anatoly Chubais and Aleksey Kudrin.