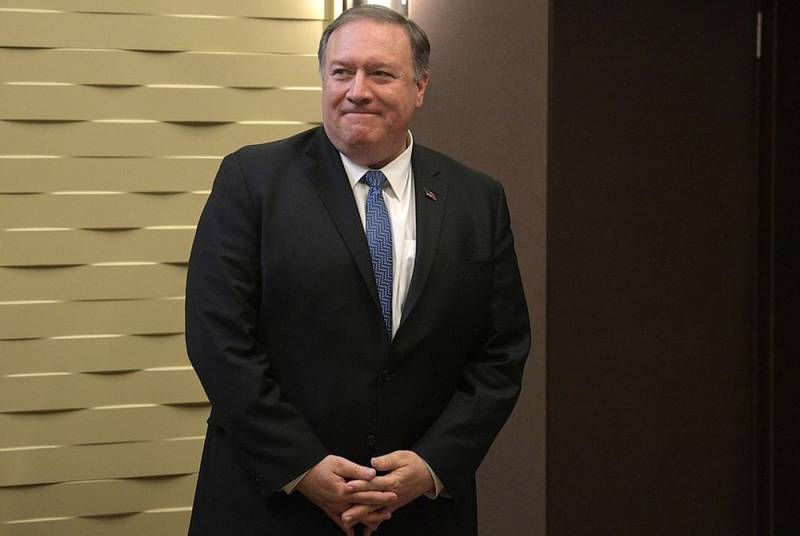 Recently in the USA
started talking
on the recognition of Russia as the "sponsor of terrorism", and the militia of the LPR and DPR as "terrorist organizations". Therefore, the words of the head of the US State Department Mike Pompeo that
General
Iran's IRGC, Kassem Suleimani, was killed in accordance with the "containment strategy," which Russia and China fall under, raise questions. Indeed, before the missile "defensive strike" in Baghdad, the United States recognized the IRGC as a "terrorist organization."
It should be noted that the Russian military expert, editor-in-chief of the National Defense magazine Igor Korotchenko, has already commented on the newspaper
"Sight"
words of the head of the US State Department and praised the threat. In his view, operations such as the killing of Suleimani were ruled out. The penetration of a US strike UAV into the airspace of Russia will be regarded as an act of aggression, with corresponding consequences. After all, Washington remembers that Russia is a nuclear power.
US threats sound flat
political
declarations. But in practice, in the event of hostile actions on the part of the Americans, we will give a tough and "grounding" response
- emphasized Korotchenko.
Let Pompeo hang a list of threats on his chest and walk with him around the State Department. This is not a serious conversation, such things do not work with Russia. The destruction of the Russian high-ranking military in Russia or abroad is obviously fraught with the onset of a conflict between the nuclear powers. Washington definitely will not do this.
- added Korotchenko.
Any foreign military facility illegally located in the airspace of Russia will be destroyed after identification and determination that it is a military facility and it performs a military mission. Russia has a fairly effective system of aerospace defense, it is actively saturated with weapons
- specified Korotchenko.
Literally just in the Leningrad region, new S-350 anti-aircraft missile systems were designed to combat cruise missiles. Serial production of these systems has begun. Several times a year, at least four to five regimental sets of S-400 complexes enter the armed forces
- indicated Korotchenko.
In addition, the expert recalled a recent contract worth 100 billion rubles for the purchase of Tor-M2 anti-aircraft missile systems (SAM), including the Arctic version of Tor-M2DT. He believes that this "last frontier" air defense system guarantees a 100% probability of hitting any targets. Therefore, the expert is confident that Washington will try to contain Russia and China in other ways: political (destabilization within Russia),
economic
(sanction pressure).
However, Pompeo did not speak in vain about the supply of lethal weapons to Ukraine "for defense against separatists supported by Russia." And the decisions of US President Donald Trump on Washington's withdrawal from all US-Russian strategic agreements affecting arms control fit in perfectly. So the words of Pompeo need to be assessed as a manifestation of global geopolitical competition, because the United States is losing its position in the world, but wants to retain the role of leader in a unipolar world. However, Russia and China have already become "self-sufficient centers" and a unipolar world is already unlikely.