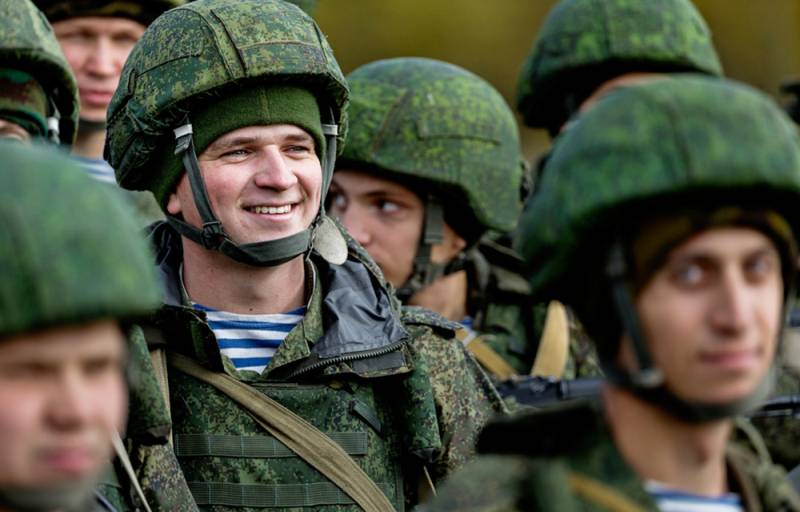 The fact that the United States stubbornly continues to repeat about the "threat" that our country supposedly poses for them, in truth, has not surprised or confused anyone for a long time. Well, they want to take it that way - even if they're not convinced anyway ... To tell the truth, a pretty disturbing cause is something else - that to some in Washington Russia seems to be some kind of "temporary problem" that has arisen on the path of "becoming again of great America ", an annoying misunderstanding, completely eliminated in the near foreseeable future.
It is precisely such conclusions that the revelations of some very senior officials there are pushing. Which ones and why does this pose a real threat to us?
China is for a long time, Russia is not ...
This is precisely the idea voiced not so long ago by the Director of the intelligence department of the US Department of Defense, Lieutenant General Robert Ashley. For some reason, he is convinced that our country threatens American interests exclusively "in the short term," while comrades from the Middle Kingdom will be a headache for a very long time to come. Chef Ashley, Pentagon chief Mike Esper, has a similar opinion in his last year's speech in Brussels before a meeting with colleagues from other NATO countries, emphasizing that the "primary" problem for Washington is still the confrontation with Beijing, and Moscow - this is so, something secondary. In a similar vein, the current White House national security adviser Robert O'Brien recently spoke in an interview with Axios. Mentioning the same two countries as "the greatest threats to the United States in accordance with their doctrine of national security", he nevertheless paid special attention to China with its "global ambitions and the clear goal of dominating world trade and
the economy
". At the same time, O'Brien in his frankness went so far as to call the Celestial Empire "an equal rival with which the United States faced for the first time in its history." What time!
It would seem - what's wrong with that ?! Perhaps, proceeding from such conclusions, Washington will cool down, as they say, "let it go" and, for a start, stop accusing our country of all kinds of "interference in elections", "aggressive actions" and other similar intrigues? There, you look, and the sanctions will be lifted. And there will come with us, as happened, "peace, friendship, chewing gum" ... Alas, I have to disappoint - given the unquestionable features of the psychology of American
politicians
and the military, as well as the directly derived style and methods of United States foreign policy, the exact opposite is to be expected. They will be afraid to touch the stronger and more dangerous enemy, at least for the time being. But the one who seems to them to be the "lesser evil" will probably try to "crush" in order to free their hands for the main fight in the future. And, first of all, in no case should we prevent even a hypothetically possible unification of the two "foes" against themselves. By the way, in the case of China and Russia, such an alliance seems to be quite probable and logical. And this, no doubt, in turn, can push Washington to even more drastic and hasty actions. So it's not worth rejoicing that the Americans consider us the lesser of the problem. On the contrary, you should continue to make every effort to dispel their pernicious delusion as quickly as possible.
When will you fall apart ?!
The source of this problem is, alas, worth looking for in our own past. Rather, in the treacherous actions of the "leaders" of the Soviet Union, who ruined it with their own hands to please the West and the "leaders" of our country, who almost ruined Russia in the same exact scenario. The Americans (and all their allies) were simply afraid of the Stalinist USSR to the point of hiccups. Khrushchevsky was treated roughly like normal countries today - the United States under the leadership of a weakly predictable Trump. But the "perestroika" and their followers convinced our overseas "friends" that Russia could easily be pushed around, that it was weak, stupid and ready to dance to the tune of someone else for a McDonald's hamburger and a can of Cola. The richest country, which at once fell into poverty and squalor, begging the "humanitarian aid" from the whole world and slavishly accepting it, cajoing before the "white gentlemen" ... A country that allowed redrawing its own borders and laws, reducing its army and spitting on glorious history - perhaps can this be respected? Especially - to be afraid. For two decades now, Russia has been proving to the West that all this is in the past. Nevertheless, the stereotypes firmly crushed into the consciousness of the local "elite" do not allow us to take everything more than obvious evidence and signs seriously. At the same time, it comes to complete absurdity when black is declared white, strength is weakness, and victory is defeat.
A voluminous and extremely detailed article by Janusz Bugai, recently published in the American edition of The Hill, can be considered an excellent example of such "thinking"; he is not just anyone, but an analyst at the Washington Center for the Analysis of European Politics. In his opus, this "thinker", quite seriously, asserts that Russia today is "in a state of deep decline and economic stagnation." She, Bugaysky is convinced, "is much weaker than she wants to seem." Defense budget? Yes, he is ridiculous! Barely reach, you know, up to 10% of US military spending. What can we talk about here ?! Not only that, according to a Washington analyst, the "Russian regions" are sleeping and seeing how, as soon as possible, to raise a real "rebellion against the central government they despise"! That's right and spits, I'm not joking. According to Bugaysky, "dozens of federal units" for victory is only "to coordinate their requirements" - and victory in the form of "achieving independence, or at least significant autonomy" in their pocket. Just like the golden key of Duremar. Moscow, he assures, "will not be able to extinguish this movement," just as it failed to prevent the collapse of the Soviet Union. Here it is - the root of such reasoning, giving a schizovy "syur" reasoning! "Analysts" and "experts" of various foundations, centers and other extremely diverse offices specializing in this topic stubbornly continue to measure today's Russia with the arshin of the "late" USSR, not wanting to realize the difference between them. It seems to them: you just need to "push" a little more - sanctions, propaganda, fooling Russian youth, supporting the "fifth column" in the country, and Russia will collapse overnight!
Donald, "cut" Russia! She is golden ...
The worst part is that such "experts" are directly involved in the development of a variety of strategies and concepts for the White House, the US Department of State and the Pentagon. And you thought who? High-minded thinkers, refined intellectuals? Yes, for the most part, alas, paranoid, like Bugaysky with indefatigable imagination and boundless Russophobia of the 1986 model. After all, the author of the nonsense I cited above is insignificant and undertakes to give "recommendations" to official Washington on how the evil-minded Moscow can be put on the shoulder blades of one left! It is just necessary to give certain "powerful signals" to the "aggressive, but frightened Kremlin", and you know how? "Actively supporting ethnic and regional contradictions and conflicts within Russia" - the author makes a "brilliant" resume. In other words - by all means "rocking" our country, pushing it toward a civil war and the long-awaited complete collapse. To our great regret, in American politics, up to its highest echelons, to the heads of special services and the country as a whole, there are more than enough people who think this nonsense is an excellent recipe for building a US policy towards Russia. Very successful, and, most importantly, quite feasible. In any case, judging not only by rhetoric, but also by the concrete actions of many members of Congress and officials of the American public administration of considerable ranks, this is the case.
The propaganda machine of the West does not get tired of drawing pictures of "stagnant", "stagnant", "helpless" and so on Russia. As an alternative to Russia, it's about to "explode" or "fall apart." And what to expect if those who wish to continue to develop this topic in a long-established "right" way, do not hesitate to toss up "food" for their work, even seemingly quite solid and respected organizations. For example, the World Bank, as a result of a "study" on the extremely vital issue for the West: "How rich is Russia," suddenly issuing the conclusion that the size of the so-called "human capital", our country lags behind the level of countries of the Organization for Economic Cooperation and development almost fourfold. In short, we are poor, poor ... No, I do not presume at all to say that in our country, with the well-being of the people, this is a wonderful situation. Dairy rivers with sweet sides are definitely not observed. However, to try to argue that Russia is almost a "poor country", using, by the way, at the same time rather controversial methods, is already a complete search. However, why all this is done is also understandable: every time after the next "scientifically substantiated" throw-in about the supposedly squalor of our lives and the benefits of life that the Russians don't receive, quiet and insinuating advice from various "good intentions" immediately begins to sound: Why are you wriggling! You have to be simpler, more complaisant ... Do not meddle where they do not ask you - in all sorts of Syria, Libya and Venezuela. To reconcile with Ukraine quickly, on its, of course, conditions. You can't poke your gas pipelines into Europe, and in general, do not go anywhere across the Washington "dad". Keep an eye on China, and not be friends ... And you will be happy!
We have heard all this more than once. And even they lived that way - thirty years ago. Was good? I don't remember something. The policy pursued by the Russian authorities today to rapidly strengthen the country's defense capabilities, offensive foreign policy and minimal compliance with Western "partners" is perhaps the only way for us to finally cease to be considered the "weak link" that we should quickly "deal with" »One way or another. Other options are somehow not visible.