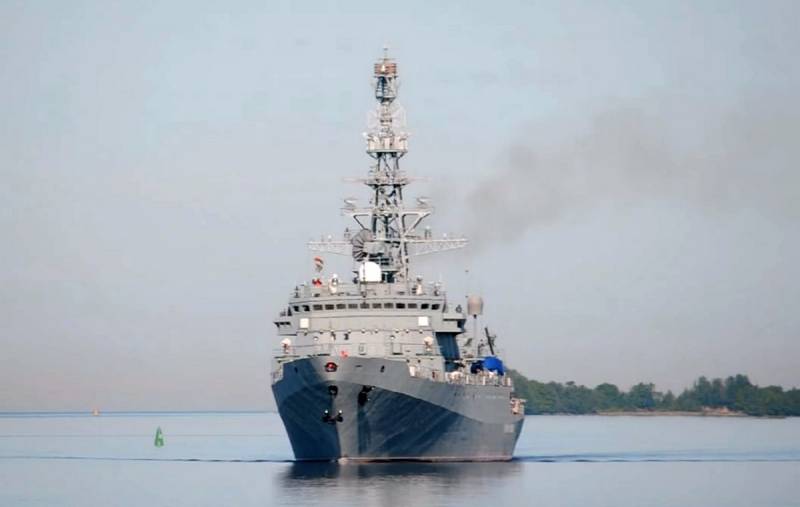 A few days ago in the Arabian Sea there was an incident between the Russian reconnaissance ship Ivan Hurs and the destroyer USS Farragut (DDG-99). The parties interpret the incident in different ways. The US Navy accuses Khurs of "aggressive maneuvers." The Ministry of Defense of the Russian Federation claims a violation of international traffic rules by the Americans. So what was really there?
To understand, we must remember that, despite the absence of war between our countries, a tacit confrontation continues between the military of Russia and the USA: on land, in the sky, and at sea. Aviation constantly drives away potential opponents from air borders, warships "cut" each other, submarines make "breakouts".
The case in question is from the same series. Who are its members?
"Ivan Khurs" is a specialized reconnaissance ship, which became part of the Russian Navy only in 2018. Its weapons are very modest - these are just two MTPUs for a 14,5-mm machine gun. Therefore, he did not pose a special threat directly to the American destroyer. The main task of the vessel is reconnaissance, tracking elements of the US missile defense, electronic warfare and radio reconnaissance, communications and control of the Russian fleet.
USS Farragut (DDG-99) - destroyer URO class "Arly Burke", the main "workhorse" of the US Navy. In this case, he was part of the AUG at the Harry Truman aircraft carrier, guarding him. And at this point it is necessary to dwell a little more.
In addition to the aircraft carrier, the group also usually includes 1-2 missile cruisers, 3 destroyers, 4 frigates, 1-2 submarines plus support vessels. In photographs and videos in a warrant in tight formation, the AUG looks very impressive. But in a travel warrant, vessels move at a considerable distance from each other, which can be tens of miles. In fact, this is a huge circle on the water with a diameter of up to 100 miles, inside which is an aircraft carrier. Continuously between them, data is exchanged within this information field.
One of the tasks of the security courts is to prevent outsiders inside the warrant. Moreover, the most modern reconnaissance ship of a potential enemy. However, the captain of USS Farragut (DDG-99) did so. The footage of the recording shows that the American destroyer "cuts" the Russian ship, located to its right, as if pushing it to the side. But, in fact, leaving "Ivan Khurs" with his lower speed behind him, USS Farragut himself let him in the AUG order.
It turns out that in this bloodless sea battle, the captain of the destroyer outwitted himself, and the commander of our reconnaissance ship was the winner by completing the task.