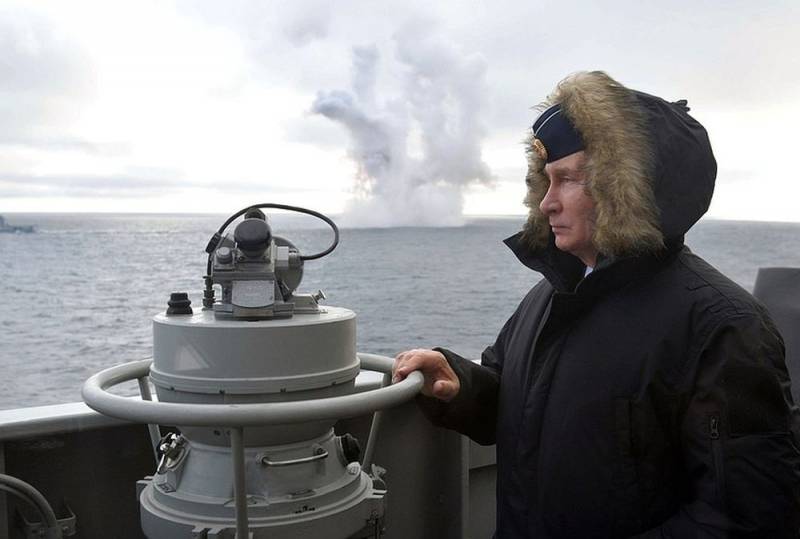 On January 9, 2020, joint maneuvers of the Russian Black Sea and Northern Fleets took place in the Black Sea. Supreme Commander-in-Chief Vladimir Putin watched the progress of the exercises from the missile cruiser Marshal Ustinov. Western media have already drawn attention to this and expressed their views on this matter.
You play catch-up ": a harsh message from Russia to Trump, who plays muscles
- wrote the British tabloid Daily Express (Daily Express).
In turn, the American newspaper The Washington Post focused on Putin's presence on these exercises. At the same time, CNN emphasized the technical characteristics of the "Dagger" and other samples of Russian weapons. Moreover, all media unanimously consider these exercises a Russian response to the recent
murder
Americans by an Iranian general in Baghdad.
It should be noted that during these exercises rocket firing was carried out, including Caliber cruise missiles and Dagger hypersonic aerial ballistic missiles. The video of the launch of the "Dagger" rocket with a supersonic high-altitude all-weather MiG-31K long-range fighter-interceptor is already available on the Web.
The Black Sea Fleet during the exercises was represented by the frigates Admiral Grigorovich, Admiral Makarov, small missile ships (RTOs) and missile boats Orekhovo-Zuevo, Naberezhnye Chelny, Ivanovets, large landing ships (BDK) Caesar Kunikov "And" Azov ", patrol ships" Dmitry Rogachev "and" Vasily Bykov ", as well as the submarine" Kolpino ", small anti-submarine ships and sea minesweepers. The Northern Fleet was represented by the Marshal Ustinov missile cruiser and the Vice Admiral Kulakov large anti-submarine ship (BOD). Also, the Su-30SM multipurpose fighters, Su-24M front-line bombers, Tu-95 strategic bombers and helicopters took part in the exercises.