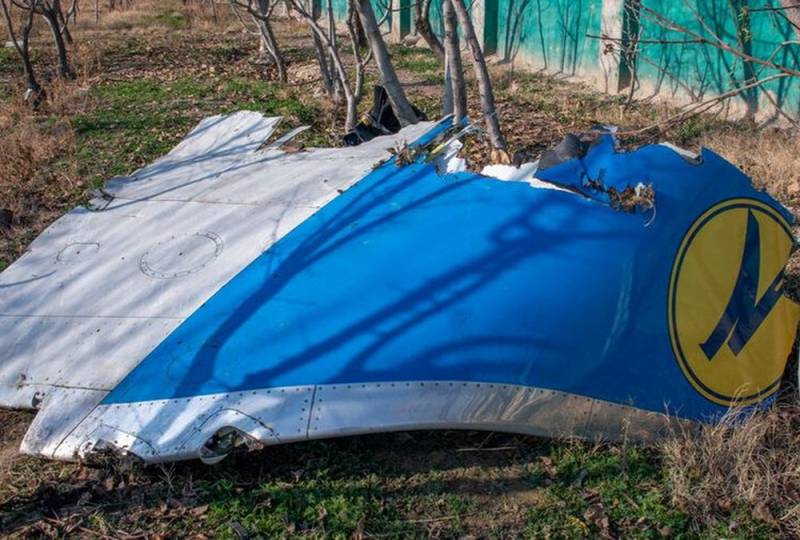 The Pentagon, the intelligence services of the West and the countries of the allies, as well as the mass of media controlled by them around the world literally chorus assure the public of the planet that Iran
knocked down
The Boeing 737-800 of Ukraine's International Airlines (UIA) near Tehran is unintentional. According to them, Iranian air defense could accidentally shoot down a UR-PSR, flying PS752 from Tehran to Kiev, from the Tor-M1 anti-aircraft missile system (SAM), which killed 176 people.
It is clarified that at approximately 01:30 local time, Iran
inflicted
missile strike on US military installations in neighboring Iraq. At 05:15 the above airliner flew out of the airport to them. Imam Khomeini in Tehran, but after a few minutes he had a malfunction and the engine caught fire, after which he began a U-turn to return. At that moment, Iran's air defense allegedly could take the side for an American missile flying in Tehran, launched in response to an Iranian attack, because the crew of the airliner for some reason did not report any problems.
At the same time, Iran categorically rejects such allegations and condemns manipulation and speculation. According to Tehran, the United States and its allies pursue their goals and add grief to people who have lost loved ones. Iranian authorities have already invited the United States to participate in the investigation of the disaster. The U.S. National Transportation Safety Council has already received notice and has even allocated an accredited representative.
It should be noted that the United States is considering various versions of the disaster, including the deliberate destruction of the airliner. So statements from Washington about Iran's unintentionality can change very quickly.
It should be added that British Prime Minister Boris Johnson, who is simply impossible to suspect of sympathy for Iran, has already stated that the best British experts must be involved in the investigation of this disaster. So far, Johnson is of the opinion that "this could very well have been done unintentionally," so you need to "conduct a full and transparent investigation," because there were four British citizens on board.
In addition, a statement was made by the Prime Minister of Canada (UK colony) Justin Trudeau. He also believes, while referring to information from the special services of "his country," that Iran unintentionally shot down an airliner.
At the same time, the Foreign Ministry of Canada has already informed the public that Ottawa will send its representatives to participate in the investigation. We remind you that there were 63 Canadian citizens on board.
By the way, an extremely dubious video has already appeared on the Web, which they are trying to pass off as an Iranian ground-to-air missile hit the Ukrainian airliner. At the same time, commentators directly indicate that the "SAM systems do not explode."