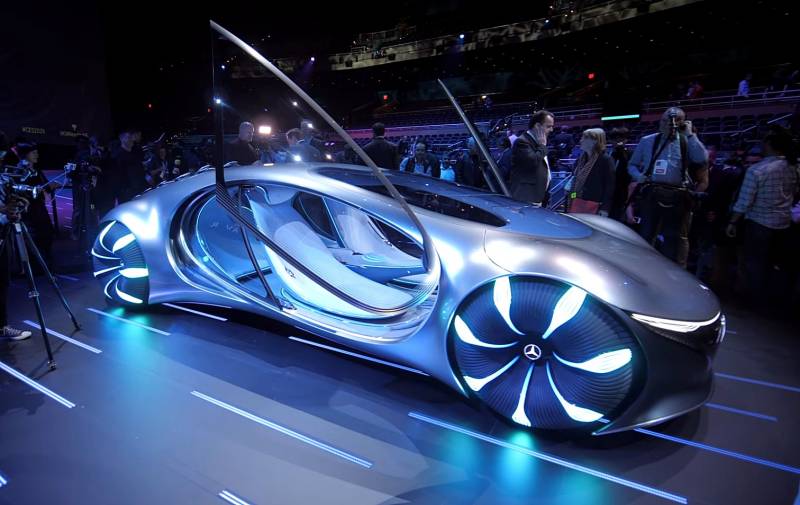 Mercedes-Benz presented a working prototype of the car of the future at CES 2020. A team from the Daimler AG concern, known for its unusual concepts, worked on the electric car. However, this time the device was shown to the public, going far beyond the usual notions of a modern vehicle.
The brainchild of German engineers was called VISION AVTR. Which is very symbolic, since the machine literally functions "on the same wavelength" with its owner, like an avatar. At the same time, the design of the electric car was created in the spirit of the film of the same name by John Cameron, who, by the way, was directly involved in the development of the concept. What are 33 "surface elements" at the back of the car, which can flutter like reptile scales.
VISION AVTR is the most environmentally friendly car in the world. So, the floor in the cabin is made of fast-growing rattan, the seats are decorated with microfiber, which wears out during the entire life of the car, and the "symbiote" is powered by an organic battery based on graphene.
The prototype wheels are also far from standard. They have a spherical shape and, thanks to a fully-controlled chassis, allow the car to perform incredible maneuvers. For example, move sideways like a crab or turn around literally in place.
Another "surprise" was the electric car control system. There is no steering wheel in the car. Its function is performed by a spherical joystick, which is located under the palm of your hand and responds to deviations in the right direction. At the same time, to start the engine, just put your hand on the joystick, the car will recognize your heart rate and bring the car to working condition.
All vehicle systems are controlled by gestures. Information is displayed on a huge touch screen. In addition, the entire audiovisual system "avatar" is tied to the context of the use of cars. For example, if a family sits in a car, a picture from the rear seats will automatically be displayed on the screen, so that parents can watch the children. At the same time, the rear suspension will "pulsate" to the beat of the parents, which, according to the developers, will provide the children with a "sense of security and connectedness."
It is worth noting that the VISION AVTR electric car symbiotic shown at CES 2020 is not just a concept. The car is in full working order and immediately after the exhibition "will go for a walk" along the roads of Las Vegas. And yet, in accordance with modern tradition, the car was equipped with an autopilot. At least, the Avatar got to the stand on its own.