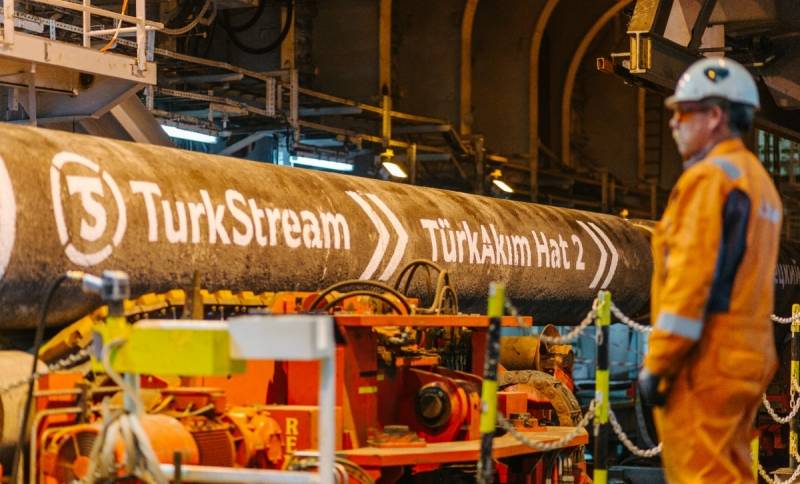 The day before, the grand launch of the Turkish Stream took place. The opening ceremony was attended by Presidents Vladimir Putin and Recep Erdogan. The Russian leader actually handed over the "key" to the energy security of Southern Europe to Ankara. What will this mean for relations between Russia, the EU, Ukraine and Turkey?
According to Gazprom's plans, the bypass pipeline was supposed to save the monopolist from the vagaries of Ukraine as a transit country. Initially, the South Stream was designed for this task, with access from the Krasnodar Territory through the bottom of the Black Sea to Bulgaria. Its capacity was very impressive - 63 billion cubic meters of gas per year. But under US pressure, Sofia almost buried the pipeline, and the Kremlin made a strong-willed decision to refuse its services.
The "Turkish stream" is a compulsory alternative to the Bulgarian direction, and it turned out to be much more modest: only 31,5 billion cubic meters per year instead of the previous 63, with Ankara taking half of these volumes, the rest will now go to the second line to European consumers. It turns out that bypassing Ukraine, Gazprom will be able to direct only 15,75 billion cubic meters to the south of Europe annually. Not so much, but Turkey, Bulgaria, Greece, Slovakia and Hungary can be calm, forgetting about Kiev.
Frankly speaking, Turkey is the one that has most benefited from this project so far. At the expense of Gazprom, Ankara received one pipe for its own needs and a 10% discount on gas, as well as a transit line, for which Russia would have to pay. In addition, in the hands of President Erdogan is now control over gas supplies to southern Europe, which dramatically increases the importance of Turkey in
policy
The old world. Recall, in addition to the Turkish Stream, Ankara received the TANAP-TAP gas pipeline, which turned the country into a large regional gas hub.
It is quite obvious that Brussels does not like such dependence on the wayward Turkey, which has stood on the threshold of the European Union for decades. It is not surprising that the European Commission, with the support of the United States, gave the green light to laying an alternative TANAP-TAP and the Turkish Stream gas pipeline EastMed. Through it, 10 billion cubic meters of gas per year from Israel and Egypt will flow to the bottom of the Mediterranean Sea to southern Europe.
Gas pipelines competing among themselves for access to the European market have already pushed serious regional players together, which has indirectly led to an exacerbation of the war in Libya. Russia and Turkey have a chance in it to be on the same side, therefore, a favorable situation is developing for building an alliance between our countries.