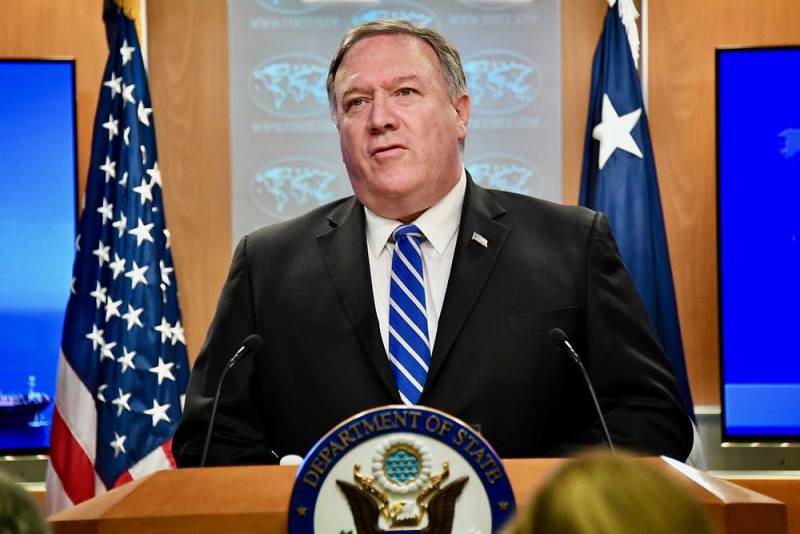 The Washington Post, an American daily, learned interesting details that shed light on the Pentagon's assassination of Iran's General Suleymani in Baghdad on January 3, 2020. It turns out that the former CIA director and the current head of the US State Department, Michael Pompeo (Michael Richard "Mike" Pompeo, born in 1963), for several months sought the consent of the American President Donald Trump to kill this Iranian high-ranking military man.
Sources of the publication note that Trump for a long time refused to give sanction for the special operation. In addition, the US military itself objected to this outrageous act, which would now be superfluous in relations with Tehran. Indeed, significant material and military resources would be required to stabilize the situation in the region. But Pompeo tried to persuade and persuade Trump.
And so, on December 27, 2019, "unknown snipers"
carried out
shelling of a US military base in northern Iraq near the city of Kirkuk. As a result, one US citizen died and several were injured. The CIA and several other US agencies were quick to accuse the shelling of Iraqi Shiites, but no one took responsibility for this.
On December 29, 2019, Pompeo, as well as the head of the Pentagon, Mark Esper and the head of the Joint Chiefs of Staff of the US Armed Forces, Mark Milli, came to Trump and began to express their vision of the situation. As a result, Trump quickly agreed with the arguments and gave the sanction to commit the assassination of an Iranian general.
It is clarified that Trump's consent to a "decisive defensive missile strike" came as a surprise and even a "shock" to many US senior military and government officials. After all, Trump allegedly did not want to use military force against Iran, despite his aggressive rhetoric, before the presidential election, which should be held in November 2020. The sanction pressure, he believed, would be more than enough so far to keep Tehran "in good shape".
But it should be noted that American "diplomacy" is known for its provocations, after which the United States began the war. For example, on August 2, 1964, the Tonkin incident occurred, after which the United States was bogged down for a decade in the Vietnam War.
So it is not in vain that the House of Representatives (lower house of parliament) of the US Congress decided to urgently consider a bill to limit the military powers of the US president regarding Iran. After all, trump has already managed
threaten
Tehran inflicted a "disproportionate" blow and the destruction of its cultural objects, in the event of an attempt to avenge the murder of his general.