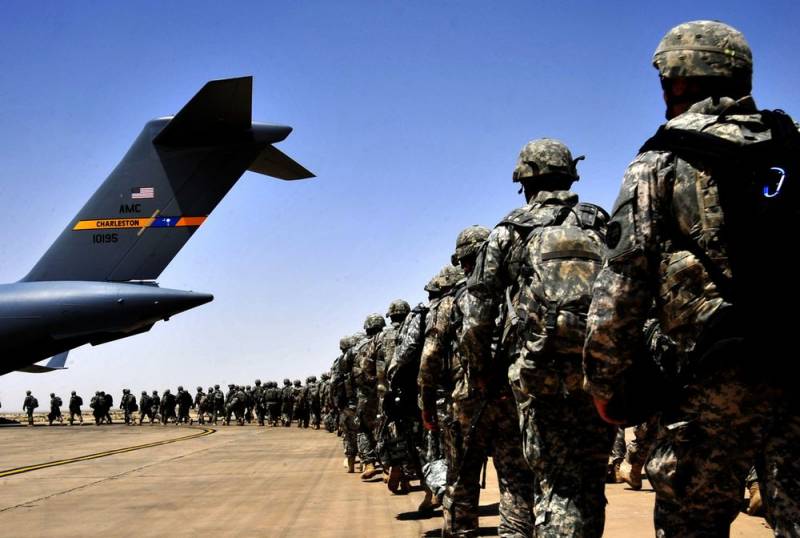 Recently
сообщалось
how the Americans killed in Iraq, with the help of a "defensive strike" missile, the commander of the Quds special forces of the Islamic Revolutionary Guards Corps (IRGC) of Iran, General Kassem Suleimani, and how some countries reacted to this. Naturally, this act of blatant "partnership" did not go unnoticed in Baghdad.
The Council of Representatives (Parliament) of Iraq, having gathered for an emergency meeting, ordered the local government to remove US troops and their allies from the country. According to the Arabic-language media, the document said that the government should "put an end to the military presence of foreign forces in the republic and stop working within the framework of a security agreement concluded with the forces of the international anti-terrorist coalition." It is clarified that the government is obliged to take practical steps to stop "any foreign military presence and prohibit the use of the country's airspace", as well as to withdraw the request for assistance to combat ISIS (a terrorist organization banned in Russia).
Washington has already reacted to this. US President Donald Trump said that if Baghdad wants Washington to withdraw its troops, then Iraqis will have to compensate for the costs of Americans to create military infrastructure in this country. The American leader stressed that the United States has a "very expensive air base" in Iraq, for which his country spent "billions of dollars" long before Trump settled in the White House's Oval Office.
Therefore, the United States will not withdraw its troops from Iraq until Baghdad "pays." Moreover, Trump threatened Baghdad with sanctions, "if there will be some hostility" or if "something is done" that the US "will consider it unacceptable." Trump added that these will be sanctions "which they have never seen", and "anti-Iranian sanctions will seem like a trifle".
It should be recalled that US troops have been in Iraq since 2003. Until 2013, the Americans imitated the search for weapons of mass destruction (WMD) there, after which they switched to a "fight" with ISIS.
As for Iran, Trump has already threatened a "defensive strike" on Iranian cultural sites.
They are allowed to kill our people. They are allowed to torment and maim our people. They are allowed to use roadside bombs and explode our people. And we can't touch their cultural object? It doesn't work like that
- Trump said.
After which, Trump promised that the "retaliatory measures" of the United States, in the event of an attack by the Iranians, "will be great." Trump is also considering releasing intelligence related to General Suleimani. According to Trump, this general pushed Iran on a "very bad and dangerous path."
We draw your attention to the fact that UNESCO (UNESCO), the specialized organization of the United Nations (UN) for education, science and culture, has not even responded to Trump's promise to strike at cultural objects in Iran.