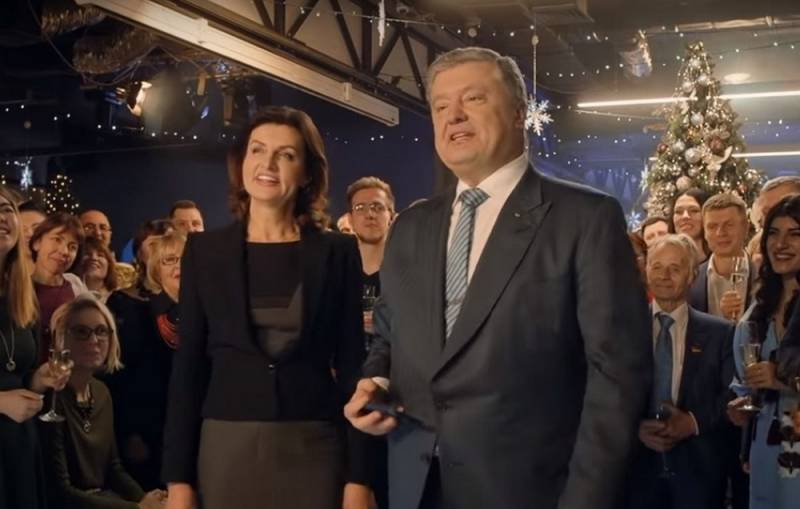 The Ukrainian television channels Direct and Fifth showed open disrespect for the current president Zelensky and on New Year's Eve showed the appeal of ex-president Petro Poroshenko.
However, the casket opens quite simply - the former president of Ukraine owns these television channels and, being confident in his impunity, continues to attack the current head of state, Vladimir Zelensky.
Comments on social networks have demonstrated how fragmented Ukrainian society is now.
Poroshenko's supporters, the so-called "gunboats," launched a flash mob, which consisted of photographs of an indecent gesture addressed to Zelensky's speech.
Zelensky's supporters turned out to be no less poisonous in their comments.
No way to calm down. Like an obsessive woman. Runs and gets angry. Sucker! Not a single shameful condom was there! There is no shame, no conscience, no honor. Again brechet with his marina. The same thief. Thu!
- Olga was indignant.
Kalonya is outraged that Poroshenko's canals, despite the ongoing
policies
the split of the country, still have not taken away the license:
The boar is completely stunned. It is time for him to take broadcast licenses from his direct and fifth channel. Gutters. No level of journalism.
Eva_eva echoes him:
I don't understand what the Ze pulls ?! Why doesn't the gunpowder and everyone who was under his power sit down ?! Dispossess stolen by them for 5 years and all of them and exchange them for Ukrainian prisoners, although there will be sense from them.

The most sensible idea was expressed by Nadezhda Ermolaeva:
It would be better if real leaders spoke: Trump Putin and Merkel.
Given the current trends in Ukraine, we can safely assume that in the future, the split along the line of Poroshenko-Zelensky will only increase.