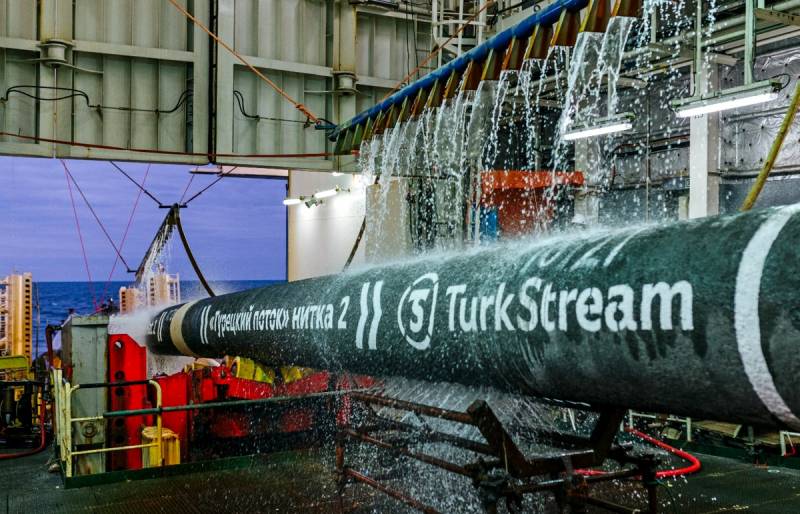 On January 1, 2020, the point of delivery of pipeline natural gas from Russia changed on the territory of Bulgaria. Now Bulgaria receives Russian gas not through Romania, Moldova and Ukraine, as it was before, but through the Turkish Stream gas pipeline. The Bulgarians have already estimated that for poor Sofia this is about 81 million leva (41 million €) annually.
It should be noted that at the end of December 2019 an additional agreement was signed between Bulgargaz and Gazprom Export LLC. So now gas is delivered not through the Romanian settlement Negru-Voda (Negru Vodă - the County (administrative-territorial unit in Romania) Constanta), but through the Bulgarian settlement Strandja on the border with Turkey. They have already specified from Bulgargaz that this fully meets not only the interests of the company, but also is beneficial for Bulgarian consumers.
The financial benefits of changing the delivery point are estimated at about 81 million leva. This savings is due to the elimination of costs of access and transit through the territory of Romania in the amount of approximately 76 million leva, which will not be paid by the company "Bulgargaz" and the Bulgarian consumer of natural gas
- emphasized in "Bulgargaz", explaining that the additional profit in the amount of 4,6 million leva will come from lower tariffs.
The Bulgarian company has already announced a reduction in prices in the country in the first quarter of 2020. At the same time, the Bulgarians continue to bargain with Gazprom Export to further reduce the cost of gas for Bulgaria.
It must be recalled that on December 26, 2019 we
Reported
that the head of PJSC Gazprom Alexey Miller promised to start delivering Russian gas through the Turkish Stream in a few days. It should be added that the "Turkish Stream" (entering the European part of Turkey) consists of two threads with a total capacity of 31,5 billion cubic meters. m of gas per year.
In addition, the Blue Stream (entering the Asian part of Turkey), consisting of two threads with a total capacity of 31,5 billion cubic meters, was previously laid from Russia to Turkey. m of gas per year, partially supplying the Trans-Anatolian gas pipeline (TANAP).