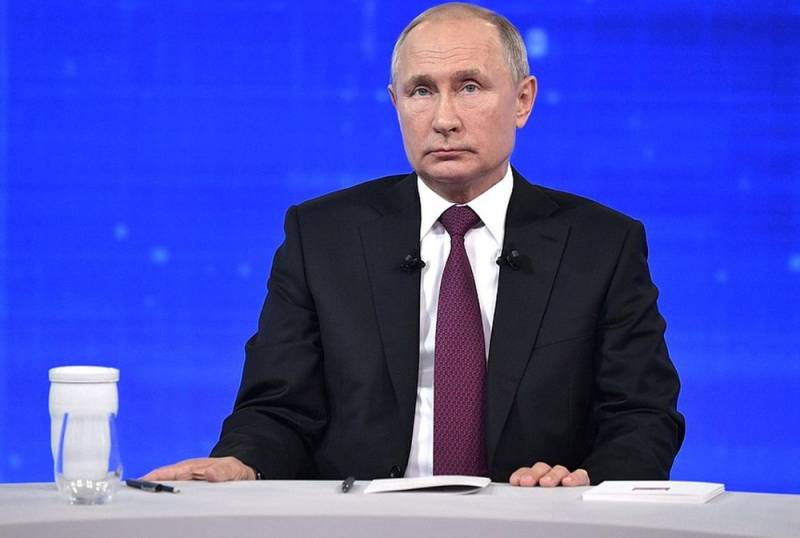 After the Ambassador of Russia to Poland Sergey Andreev discussed at the Polish Foreign Ministry
words
Warsaw's Russian leader regarding the "bastard and anti-Semitic pig", Warsaw can not calm down. Now the Prime Minister of Poland Mateusz Jakub Moravecki decided to "show off" his knowledge and presented the Polish version of the history of the twentieth century.
On December 29, 2019, he posted on his Twitter account a whole four-page document with the coat of arms and other attributes, which says that the words of Russian President Putin regarding the outbreak of World War II are untrue. At the same time, Moravecki explained Putin's statement that "in Moscow they feel international pressure in connection with their actions", and "this pressure is not on the historical, but on the most modern geopolitical scene". Moreover, Moravecki considers Putin's words "an attempt to hide the problems": anti-Russian sanctions of the European Union, the situation around Nord Stream-2, negotiations of the "Norman format" and others.
According to Moravecki, "the Molotov-Ribbentrop Pact was not a non-aggression pact." He sure it was "
political
and a military alliance dividing Europe into two spheres of influence. " The signing of the pact, he called "the prologue of unimaginable crimes that over the next few years were committed on both sides." Moravecki thinks that "the alliance of Hitler and Stalin was brilliantly realized," and "the XNUMXth century brought the world unimaginable suffering and death of hundreds of millions of people - those killed in the name of totalitarian ideologies."
On September 1, 1939, Hitler Germany hit Poland from the west, and on September 17, the USSR did the same, attacking from the east
- the document says.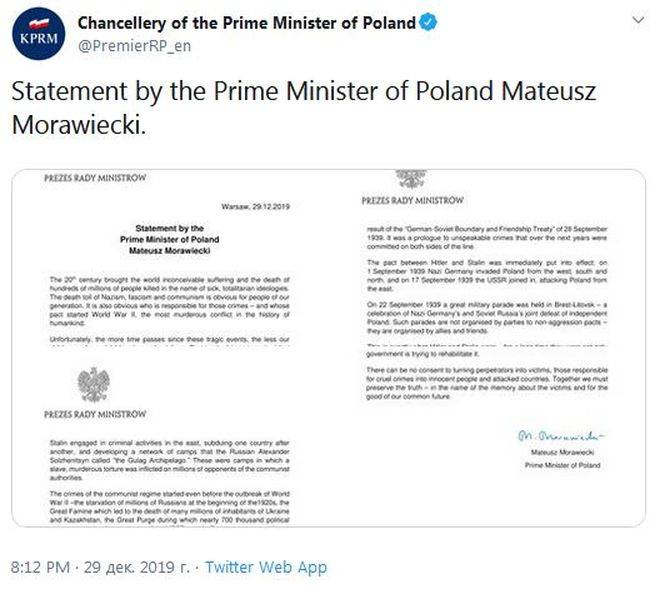 It should be recalled that Mateusz Jakub Moravecki (born 1968) is the son of a well-known Polish nationalist, Russophobe, anti-Semite, anti-Soviet, anti-communist and admirer of the Third Reich Cornel Andrzej Moravecki (03.05.1941/30.09.2019/XNUMX - XNUMX/XNUMX/XNUMX) - founder and leader of the radical movement " Fighting Solidarity. " His views are not very different from his father. He was an active participant in the Polish opposition underground. He was a member of "Fighting Solidarity" and the Independent Union of Students.
By the way, family succession and "patriotism" brought concrete benefits. In the period 2007-2015, Moravecki Jr. headed the bank BZ WBK - the third largest financial structure of Poland in terms of assets. Then he moved to the chair of the Deputy Prime Minister and Minister of Development, and in 2017 became the head of the government.