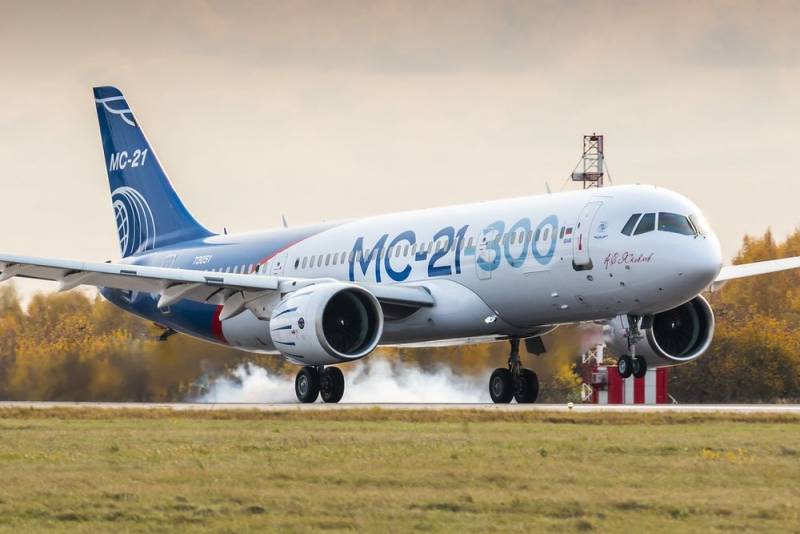 Recently in the state corporation "Rostec" were
are named
the timing of the start of mass production of Russian medium-range narrow-body passenger aircraft MS-21 ("XNUMXst Century Mainline Aircraft"). And so, the head of PJSC United Aircraft Corporation (PJSC UAC) Yuri Slyusar said that all Russian civilian airliners can rename by making a line of aircraft with the same name (brand).
Rebranding is to correctly form this target market positioning of the structure that will be involved in the creation, production and sale of civil aircraft, and to correctly approach the name of the products of this division. Perhaps the target model is to make a single line under the single name of all aircraft. At least, this is the practice adopted in the civil aviation market.
- said Slusar in an interview
RIA News
.
According to Slusar, in the world there are few companies creating civilian aircraft, and all of them with different speeds came to a similar model.
She has
economic
Reasons - investments go to one brand, and do not disperse in many directions. After all, the products are presented in one segment - civil aircraft. Discussion on this topic is ongoing, there is no solution yet
- specified Slyusar.
By rebranding, Slyusar understands the process associated with the formation of the Civil Aviation Division, which will include a set of assets involved in civilian projects. This is Irkut Corporation, with the MS-21 program, on the basis of which they plan to "assemble" the division, Sukhoi Civil Aircraft JSC (GSS JSC) is the manufacturer of Sukhoi Superjet 100 and a number of other civil assets.
We are talking about the creation of a new subject of civil aircraft engineering in our country, about the creation of what was not there - an integrated civilian structure that manages the line of civilian programs. These processes require proper market positioning that would explain corporate and
technological
industry processes
- added Slusar.
It must be recalled that in the period 1996-2003, Yuri Borisovich Slyusar (born 1974) was engaged in the production and recording business. From 2003 to 2008, he was the Commercial Director of Rostvertol OJSC, the general director of which in the period 2000-2014 was his father, Boris Nikolayevich Slyusar. During 2009-2015, Slyusar Jr. worked in various positions at the Ministry of Industry and Trade. In 2015, he became the head of PJSC UAC. An economist by education. By the way, on December 26, 2019, the Ministry of Industry and Trade announced an additional supply of Sukhoi Superjet 100 airliners to the state-owned Aeroflot.
It should be noted that before this, the head of the Rostec state corporation, which recently included PJSC UAC, Sergey Chemezov told in an interview
RBC
that the Russian short-haul narrow-body passenger aircraft Sukhoi Superjet 100 may receive a new name.