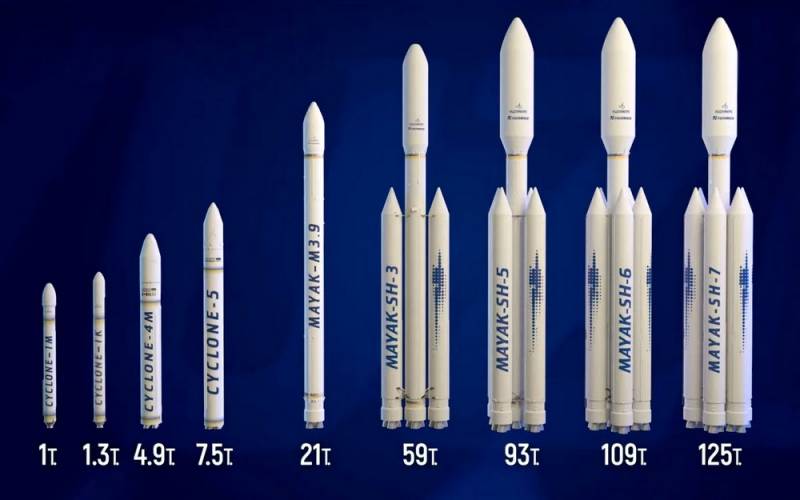 The South Design Bureau of Ukraine reported on the beginning of the creation of project documentation for the Mayak range of superheavy rockets.
The line is created on the basis of the principle of unification, which, according to the assurances of the designers, will allow the creation of various modifications of these missiles, which will differ from each other in the mass of the payload being put into orbit.
So, the Mayak-SH-3 rocket will be able to launch 59 tons of payload into a low Earth orbit, Mayak-SH-5 - 93 tons, Mayak-SH-6 - 109 tons, Mayak-SH-7 - 125 tons. It is clarified that the numbers in the names of the missiles reflect the number of side blocks.
In design circles, it is known that a lot of time passes from the creation of project documentation to the implementation of the project. Often, even promising projects do not reach the implementation stage.
Therefore, it is very premature to expect that in today's Ukraine the project of super-heavy missiles will be quickly implemented and whether it will be implemented at all.
However, such high-profile statements allow the director of the Yuzhnoye Joint-Stock Commercial Bank, Alexander Degtyarev, to write himself a bonus of 608 thousand hryvnias and take fifth place in the ranking of the highest paid officials.
Recall that in 2016 Degtyarev was dismissed on the recommendation of the Financial Supervision Authority in connection with a violation of financial legislation, but later reinstated by court decision.