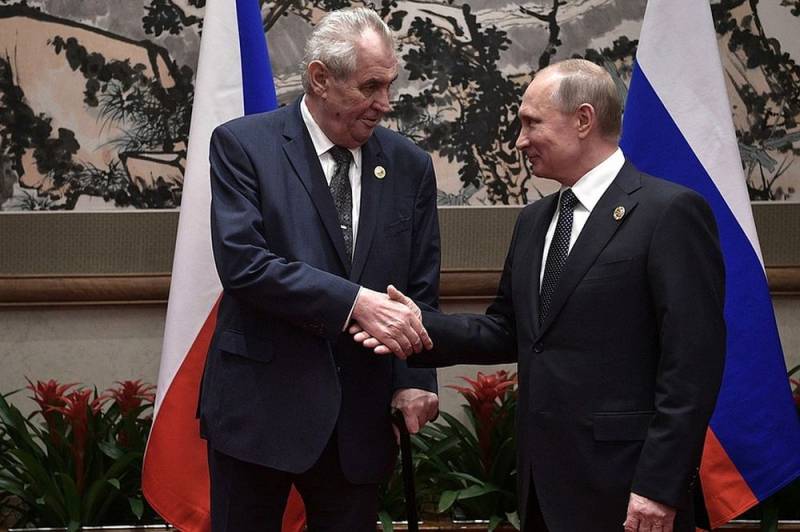 On December 27, 2019, Czech President Milos Zeman allowed his participation in events dedicated to the 75th anniversary of the Victory in the Great Patriotic War (WWII) in Moscow to be canceled. As the Czech leader explained to the publication Parlamentnilisty, this is due to Russia's position on the entry of Soviet troops into Czechoslovakia in 1968.
It should be noted that before this, the Czech parliament passed a law according to which August 21 is now considered to be the Day of Remembrance for the Victims of the "Invasion and Subsequent Occupation of Czechoslovakia (Czechoslovakia) by Soviet Forces." After that, the Russian Foreign Ministry condemned the adoption of this law. The Russian Foreign Ministry expressed disappointment, since back in 1993 Moscow and Prague agreed to "draw a line under the totalitarian past."
However, President Zeman for some reason considered the statement by the Russian Foreign Ministry to be arrogant. Then followed his nervous reaction.
Some time ago, I accepted President Putin's invitation to take part in the celebrations of the 75th anniversary of the Victory, and now I'm thinking about whether to go there at all.
- emphasized Zeman.
At the same time, Zeman added that if he did fly to Moscow in May 2020, he would definitely ask the Russian president if the Russians could "turn over the page of history and stop remembering the victory in the war".
We remind you that in August 1968, during the so-called "Prague Spring", the Warsaw Treaty member countries (except Romania) carried out the Danube operation. A group of 500 thousand people was sent to Czechoslovakia with the support of 5 thousand tanks and another
equipment
.
It should be added that on December 5, 1989, after the Velvet Revolution in Czechoslovakia (November 1989), a joint statement was adopted by the leaders of Bulgaria, Hungary, East Germany, Poland and the USSR, in which the entry of troops into Czechoslovakia in 1968 was qualified as "illegal an act of interference in the internal affairs of a sovereign country, an act that interrupted the process of democratic renewal of Czechoslovakia and had long-term negative consequences. " By the way, the Velvet Revolution led to the cessation of Czechoslovakia and the division of this state into the Czech Republic and Slovakia.