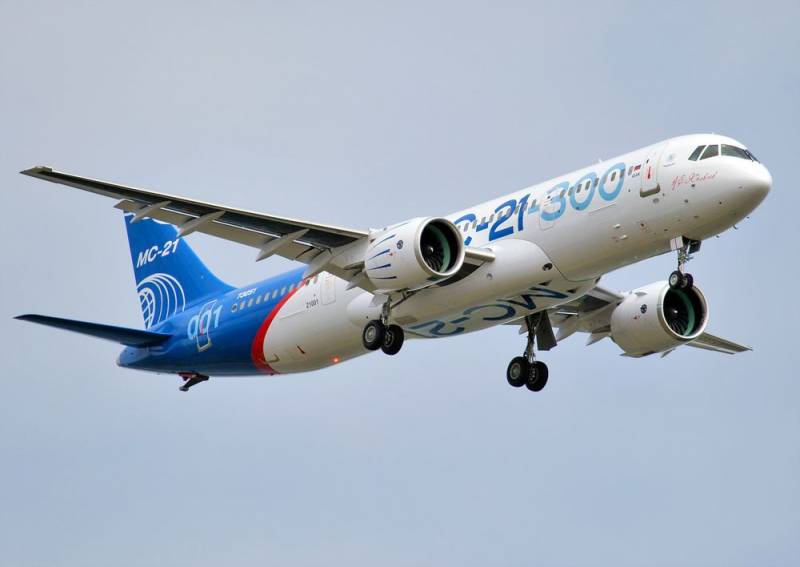 Recently we
Reported
that Malaysia declared to the European Union (EU) its readiness to acquire the Russian medium-range narrow-body passenger aircraft MS-21 ("21st Century Mainline Aircraft"), abandoning the production of the European aviation industry if Brussels continues to restrict palm oil exports. And so, from the state corporation "Rostec" informed the public that the assembly of serial MC-2020 airliners will begin in 2021, and in XNUMX their deliveries to customers (customers) will begin.
As specified in the state corporation, components are already produced and supplied by the participants in the cooperation at the aircraft factory in Irkutsk. We remind you that in September 2019, the head of the Ministry of Industry and Trade of Russia Denis Manturov announced that there were already about 21 firm orders for the MS-200.
I must add that at the same time the MS-21 made its first public flight (after being in the air for 5 minutes), taking part in the flight program of the 14th International Aviation and Space Salon MAKS-2019. Prior to this, the MS-21 samples performed exclusively test or ferry flights. There are 4 samples in total, flight characteristics are checked for them and equipment is tested in various modes.
For the first time, the MS-21 took to the sky in May 2017. It should be issued in several versions: MS-21-200 (from 132 to 165 seats), MS-21-300 (from 163 to 211 seats) and possibly MS-21-400 (up to 250 seats).
It is expected that by the end of 2020, the MS-21 will receive a certificate of airworthiness in Russia, and in 2021 in Europe. According to the Russian Audit Chamber, as of November 1, 2018, 158 billion rubles were already invested in the project, and the total cost of the MS-21 program until 2025 is estimated at 437,4 billion rubles.