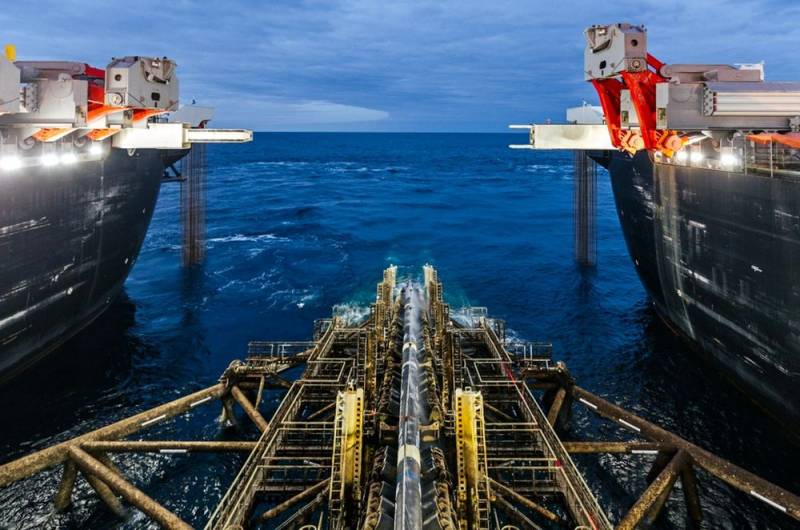 After washington
introduced
sanctions against Nord Stream-2, political scientists in Russia and Germany talked about possible provocations, sabotage, acts of sabotage and even terrorist attacks aimed at hindering the implementation of this gas transportation project. For example, your comments on an online publication
Ukraine.ru
were given by the German political scientist Alexander Rar and his Ukrainian-Russian colleague, columnist of the Russia Today MIA Rostislav Ishchenko.
According to Rahr, opponents of the specified gas pipeline can switch from political and legal methods of counteracting construction to various physical actions. After all, the gas pipeline should link Moscow and Berlin for many years, and certain forces that might even decide on a war are not interested in this.
This is my wild assumption, absolutely unrealistic, because in my worst dream I can't imagine that this is possible. But judging by the absolutely fierce state of the American elites, the sentiments against this historic project that would connect Germany and Russia, this cannot be ruled out ... If this happens, there will be a war ... Something can happen by chance. Provocations are very easy to do ...
- said Rar.
As an example of such a provocation, a German political scientist cited a recent doping scandal, due to which WADA did not allow Russian athletes to the Olympics. He recalled that the Swiss-Dutch company Allseas Group SA (a marine contractor specializing in laying subsea pipelines, installing and dismantling offshore platforms and underwater construction) immediately stopped the construction of Nord Stream-2, after the entry into force of US sanctions. Therefore, further provocations cannot be ruled out.
In turn, according to political analyst Ishchenko, sabotage and terrorist attacks on the Nord Stream-2 can lead to war, so Washington, with a high degree of probability, will not decide on them.
The fact that there may be terrorist attacks on the pipeline, I doubt very much. No, terrorist attacks are possible everywhere and always, but I doubt that the United States will decide on this. Because this is international terrorism and this is a declaration of war
- explained Ishchenko.
Ishchenko believes that in the event of a terrorist attack on Nord Stream-2, Moscow may take retaliatory measures. Moreover, the conflict between the two nuclear powers certainly does not bode well.