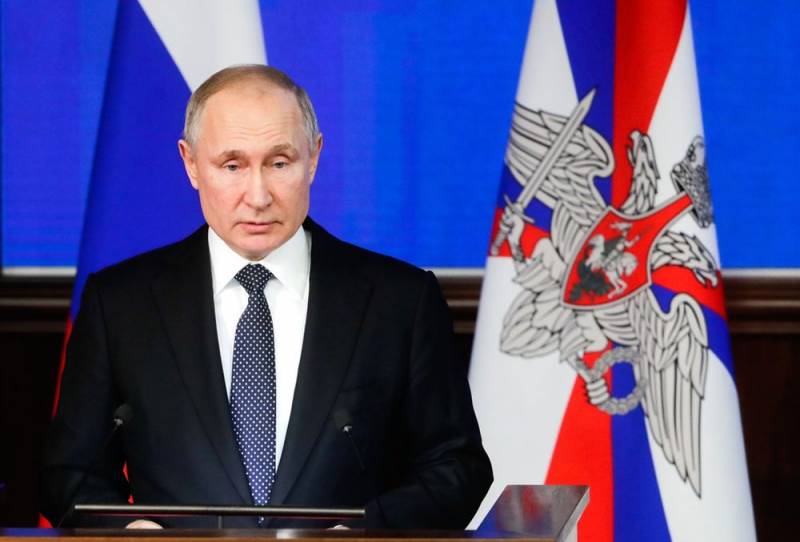 On December 24, 2019, an expanded board of the Russian Ministry of Defense was held in Moscow, attended by Supreme Commander-in-Chief Vladimir Putin and the results of the activities of the Armed Forces for this year were summarized. During the speech, the Russian leader touched on a historical topic, calling "former bastard and anti-Semitic pig" Polish ambassador to Germany in the 30s of the twentieth century, Józef Lipski, who promised to build a monument to Adolf Hitler for the deportation of Jews to Africa.
Bastard, anti-Semitic pig, you can't say otherwise
- Putin said.
He fully solidified with Hitler in his anti-Semitic moods and, moreover, for the mockery of the Jewish people he promised to erect a monument in Warsaw
- Putin specified.
Putin said that he was simply amazed and indignant at the way the "Jewish question" was resolved in Poland, after he got acquainted with the captured documents from the archives. But most of all, Putin was hurt by the way the representatives of the Third Reich and Polish officials discussed the "Jewish question." Hitler then informally informed the Polish Foreign Minister and the aforementioned ambassador that he was going to send all the Jews to Africa.
Can you imagine, 1938 - to send Jews from Europe to Africa? To extinction! To destruction!
- Putin drew attention.
Putin added that after this, the Polish ambassador wrote in his report the following:
When I heard him ... I answered him, if he does, we will put him a magnificent monument in Warsaw.
Putin believes that this could be written by an official who counts on the approval of the leadership. Otherwise, he would not do it.
Putin recalled that Russia has many different archival documents. Then he promised that he would not allow "to muck the memory of our fathers" and grandfathers who laid their lives on the altar of victory over Nazism. He stated that now it is the followers of the Nazis who destroy the monuments to the soldiers of the Red Army in Europe.
We remind you that recently Putin
рассказал
that the Red Army entered Poland after its government had lost control and "was somewhere in the region of the Polish-Romanian border," and also recalled that the Molotov-Ribbentrop Pact was the last in a series of similar documents signed by other states at that time. Then in Warsaw
began
hysterics.