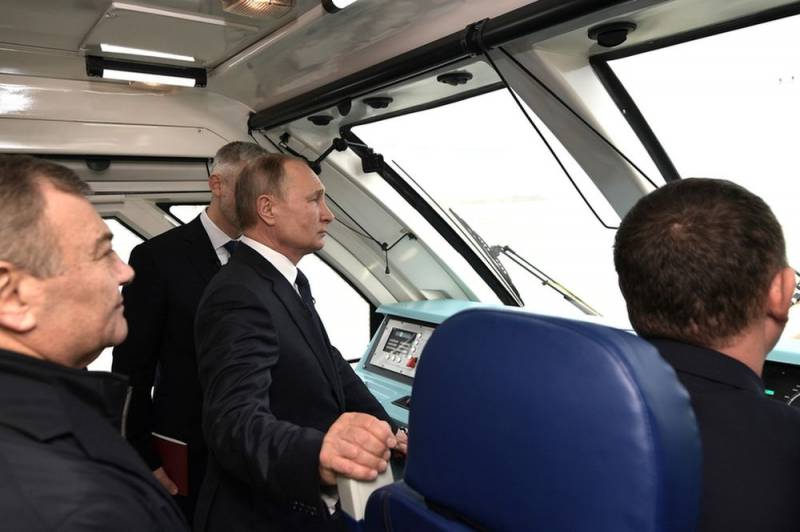 On December 23, 2019, Russian leader Vladimir Putin announced the need to move the railway off the Black Sea coast in the Sochi region. He recalled the experience of European countries that clean their railways and roads from the coast. The President called this a strategic task and instructed the Russian Ministry of Transport to calculate the cost of the project.
It should be noted that the words of the head of state were made at the time when he inspected the stands for improving the railway infrastructure of southern Russia. Putin drew attention to the site from Gelendzhik to Sochi and asked what was being done there. The head of the Ministry of Transport, Eugene Dietrich, replied that the conditions on the site to Dzhubga were not easy, as the road goes to the foothills.
And here you have to do
- Putin pointed out, pointing to a section from Gelendzhik to Dzhubga.
Putin said that 4-5 million tourists come to Gelendzhik over the summer. In his opinion, some of them would like to visit Sochi, but are not resolved due to the difficulties of the road.
This is a serpentine. Of course, we would love to go to Sochi, and it would be good for Sochi, the load would be even greater. But it's hard to ride the serpentine
- emphasized the head of state.
After that, Putin asked the head of Russian Railways Oleg Belozerov whether repairs are being made to the coastal areas "eaten up" by the sea. Belozerov assured that repairs are being carried out.
It should be recalled that in the spring of 2019, Rosavtodor submitted to the Ministry of Transport a draft high-speed road along the Black Sea coast. Initially, the new Dzhugba-Sochi highway was estimated at 1,6 trillion rubles. (including VAT at prices of the IV quarter of 2018). At the same time, the completion of construction was planned for 2025. And although the existing route from Dzhugbi to Sochi is seriously overloaded, the Ministry of Transport considered it inappropriate to build a four-lane 119 kilometer highway for that kind of money. After that, Rosavtodor reduced its cost to 1 trillion rubles, but the length of the route decreased significantly - to 80,5 km (from Tuapse to Sochi). At the same time, it should be built before 2030. But required
political
decision.
By the way, recently we
Reported
that by 2027 Moscow and Kazan should be connected by a new road (M-12) and with a positive
economic
situation in the country, this route may stretch to Vladivostok.