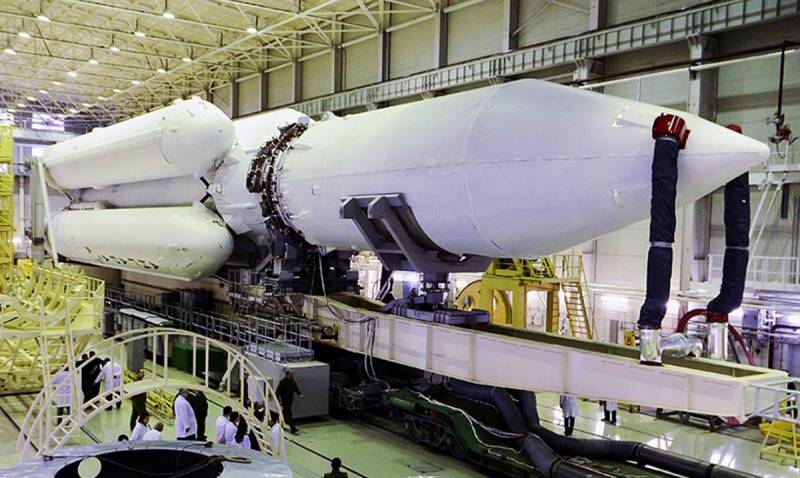 The carriers of the Angara family, whose prospects have been discussed a lot at the time, may be left behind the Russian cosmonautics. The thing is that, in the opinion of Andrei Ionin, a corresponding member of the Russian Cosmonautics Academy named after Tsiolkovsky, the aforementioned missiles simply have no chance in the commercial market.
The expert emphasized that initially there was no urgent need to create a new heavy missile. So far, Proton-M has been quite successfully coping with the corresponding function. At the same time, many had the illusion that it would be possible to build a heavy "Hangar" quickly and easily.
However, the reason for the delay in creating a new medium was not only commercial futility. Regular obstacles in working on the Angara rocket family are also associated with logistics difficulties and the Khrunichev Center's products do not meet the technical specifications of the Russian Ministry of Defense.
It is worth noting that the head of Roskosmos Dmitry Rogozin never considered the commercial effectiveness of the Angara family carriers a priority. For this purpose, the Irtysh rocket (Soyuz-5) is being created. But for the "promising family" the head of the corporation instructed his subordinates to find another application. However, "things are still there."
Recall that work on the carriers "Angara" started back in 1995. The first flight of the rocket was planned for 2005. However, the launches of the light and heavy versions took place only in 2014. This was the first and last flight of promising carriers to date. At the same time, more than $ 3 billion was spent on their creation, and the debt burden of the problematic Khrunichev Center exceeded 80 billion rubles.