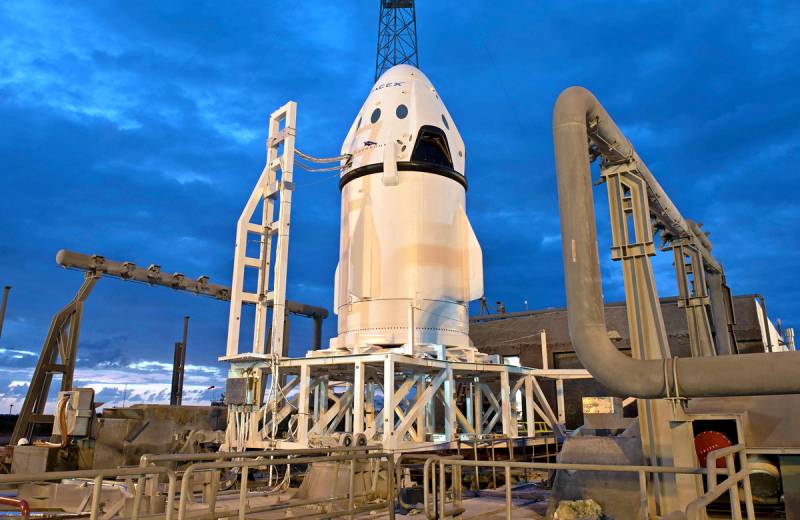 The SpaceX Crew Dragon reusable ship on a test bench. Photo: SpaceX
Failures haunt American attempts to return to manned space exploration. Earlier ground testing of SpaceX's Crew Dragon unmanned capsule
happened
its explosion, which seriously hindered the timing of the project. The day before, due to problems with automation, which we described in detail
earlier
, unsuccessfully completed its mission to the ISS Starliner Boeing Corporation. Having missed the target orbit and spending too much fuel, he was forced to prematurely return to Earth, landing in the state of New Mexico.
The SpaceX and Boeing projects present a real and direct threat to the Russian "Unions". American ships are able to take on board more than two times more crew members than an aging, cramped, domestic space veteran. In addition, having acquired two of its own manned spacecraft, NASA will be able to refuse the services of Roscosmos to deliver astronauts to the ISS, which we
told earlier
. Recall that the cost of one ticket is currently $ 80 million, which will be a tangible loss for the state corporation.
What problems have the Americans encountered that continue to maintain the relevance of our "Unions"?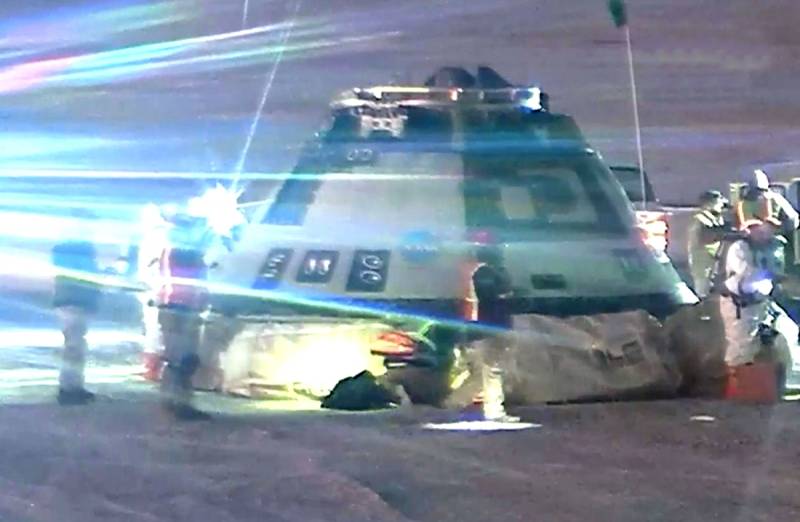 Reusable Starliner ship after landing in New Mexico. Photo: NASA
In theory, the United States already has a serious scientific
technical
base and experience of our own manned space exploration. Since then, progress has stepped far forward, new technologies and materials have appeared. Why not just revive the past by improving it? It turns out that everything is much more complicated.
Over the past half century, both in the USA and in our country the engineering school has changed, its approaches to solving technical problems, there are no longer those people who implemented these advanced projects for their time. It may seem unbelievable, but many of the most important data the developers kept in their heads. For example, in the nineties, NASA planned to send the Mars Pathfinder mission to Mars and planned to use the achievements of the previous Viking-1 and Viking-2 programs. It turned out that not all information was preserved in the archives. I had to recover data, referring to veterans of the American space industry.
Explosion of SpaceX Crew Dragon's reusable spacecraft in trials
The stable terms "technological amnesia" and "engineering archeology" have already appeared, which testifies to the systemic nature of the problem. Several decades have passed since the Apollo program. The United States first switched to Space Shuttle, and then abandoned them in favor of the Russian Unions. Competencies and experience have been lost in many respects; the reconstruction of technologies is coming with serious difficulties. Attempts to transfer the previous technical solutions to modern tasks are faced with many unexpected obstacles.
Of course, sooner or later the Americans will solve their problems. But until then, our "Unions" remain a reliable and proven "workhorse".