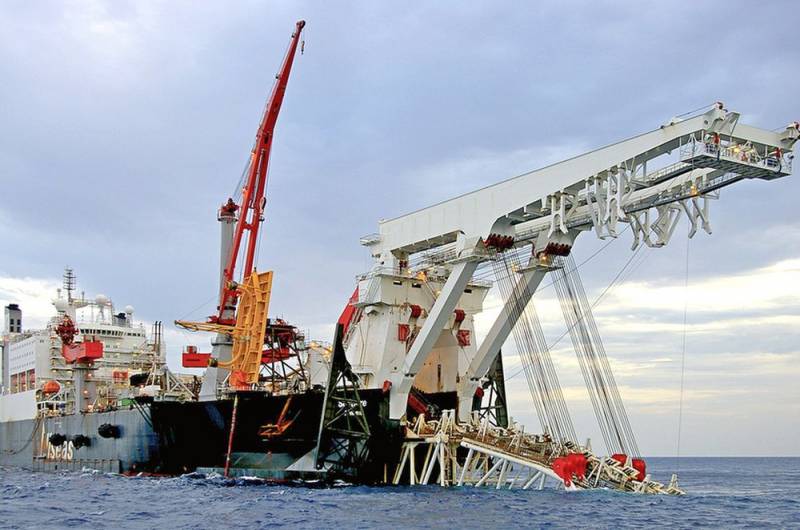 Recently we
informed
that Washington's sanctions against Nord Stream 2 came into force and the gas pipeline was stopped. And so, the American news agency S&P Global Platts Analytics decided to find out how Moscow will be able to complete the rest of the gas pipeline, which is 92% ready.
It should be noted that the agency is not registered as an independent legal entity, but is only a division of the American publishing group McGraw-Hill, which includes the international rating agency Standart & Poor's, S&P Dow Jones Indices and the S&P Capital IQ analytical and consulting firm.
In April 2014, the agency's head office was relocated from New York (USA) to the Canary Wharf business district in London (UK). About 15 thousand employees work in 1 agency offices located in the world's largest energy trade centers. It is an influential quotation agency in the global oil and petroleum products market, specializing in publishing price quotes for various raw materials, including natural gas and industrial metals.
So, the agency named the most likely contender for the completion of Nord Stream-2 the Russian pipe-laying barge (TUB) Fortuna (operator Mezhregiontruboprovodstroy, MRTS JSC), which is located in Germany in the port of Mukran. However, as the agency found, this vessel does not have a dynamic positioning system that allows it to be held in a given position.
The thing is that Fortuna is an anchor barge with a 12-point positioning system for the construction of offshore pipelines. It was built at a shipyard in Shanghai in 2010. It underwent modernization in 2011 and is capable of laying pipes at depths of up to 200 meters, at a speed of about 1 km per day. But, according to Danish law, all vessels in its waters must be equipped with dynamic positioning systems, even if they do not need them. So the retrofit will take time and some money.
In addition, the Russian pipe-laying vessel (not the river-sea barge) Akademik Chersky may take up the completion of Nord Stream-2. It is located in the Far East in Nakhodka and is disposed of by Gazprom Fleet. This vessel has a dynamic positioning system, but it will be able to arrive at the place of work no earlier than after 1,5-2 months.
It should be recalled that the Akademik Chersky pipe-laying vessel was laid in China (at the Jiangsu Hantong Ship Heavy Industry) by the order of the Nigerian company Sea Trucks Group Limited (STG), as a multi-purpose auxiliary construction vessel. In March 2015, the vessel "Jascon 18" prudently bought (bought from Nigerians) the Russian "Mezhregiontruboprovodstroy" (JSC "MRTS"), which rebuilt it for pipe-laying works and renamed it "Academic Chersky".