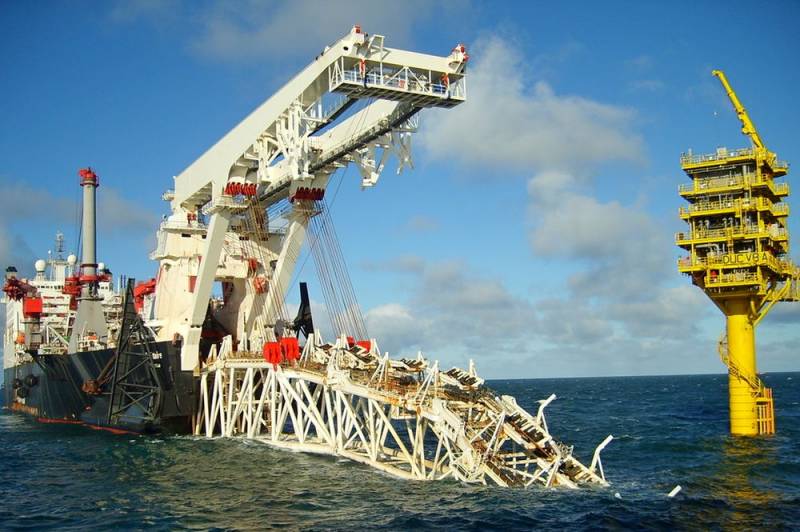 We recently reported how American senators
done
threats against the Nord Stream 2 contractor and as in the Senate (upper house of parliament) of the US Congress
decided to
stop the construction of this gas pipeline, imposing it on "sanctions from hell", making the "New Year's surprise Russian". And so, on December 20, 2019, U.S. President Donald Trump signed the U.S. Defense Budget (NDAA) for 2020 (the fiscal year begins on October 1 of the previous year).
It should be noted that the US Department of the Treasury, Office of Foreign Assets Control (OFAC), has already published a special clarification in this regard. The agency's explanation (comments) said that the ban on the construction of Nord Stream-2 would enter into force immediately.
From the moment the president signed on December 20, 2019, the provisions of Article 7503 of the NDAA immediately entered into force. The parties involved who knowingly sold, rented or provided pipes laying 100 feet or more below sea level for the construction of Nord Stream 2 or Turkish Stream should ensure that such vessels cease construction activities immediately
- The OFAC clarification says.
At the same time, it is specified that "bona fide exceptions to the termination of activity" may be made. They relate to pipeline safety, crew aboard, protecting human lives, maintenance, "to avoid environmental or other significant damage."
At the same time, the Swiss-Dutch company Allseas, which is engaged in the laying of the Nord Stream-2 gas pipeline in the Baltic, reported earlier and suspended the construction of the gas pipeline.
Pending the adoption of a defense budget law, Allseas suspends its operations on Nord Stream 2
- said in a statement to the company before the approval of the DASKA bill - "Defending American Security from Kremlin Aggression Act of 2019" (The law on the protection of American security from Kremlin aggression ").
We remind you that the length of the troubled Danish marine site near the island of Bornholm is almost 150 km. Pipelaying vessels laid about 100 km of the first string of the Nord Stream-2 and about 70 km of the second string of this pipeline at the bottom of the Baltic Sea at this point. The total length of the gas transmission line, on both lines, is 2460 km. At present, the overall readiness of the gas pipeline is 92%.