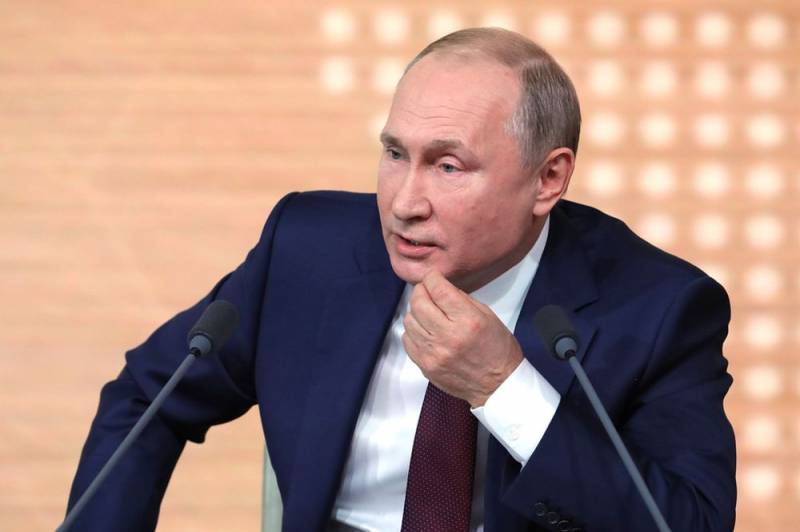 On December 19, 2019, during a major press conference of Russian President Vladimir Putin, the Ukrainian journalist Roman Tsimbaliuk, from the UNIAN agency of oligarch Igor Kolomoisky, asked the Russian leader the question of when it would be decided to "disband the occupation administrations in the Donbass". After which the Russian president told how the DNI and LPR militia had tanks and heavy artillery.
It should be noted that other issues of interest to Kiev were also touched upon: the presence of "foreign troops" in the Donbas, taking control of the border, the Kremlin's gas "noose", Minsk agreements and a $ 3 billion debt. All this was accompanied by a Ukrainian journalist saying that Russia I probably wouldn't like it if the tanks of Ukraine appeared in the Kuban.
Putin began to respond to all this consistently. In his opinion, there are no "foreign troops" in the Donbass, the need for the withdrawal of which is mentioned in the "Minsk Agreements". He confirmed that there really are mercenaries from France, Germany and other countries. Moreover, they are fighting on both sides of the front.
Let's deal with them, but they do not form the basis of the armed formations of the self-proclaimed republics, the overwhelming majority of which are local residents
- Putin said.
The President specified that "tanks and heavy artillery" appear in the world's hot spots from "state structures that sympathize" with one or another side of the conflict.
- he stressed.
Putin believes that the fundamental problem, in this case, is Kiev's lack of desire to resolve the conflict and engage in dialogue with the region's inhabitants. He recalled that Ukraine itself cut off the LPR and DPR from the rest of its territory.
Moscow, did it impose a blockade?
- Putin pointed out, recalling that Kiev used military aircraft in the Donbass.
So the conflict in the South-East of Ukraine will end only when Kiev is ready to communicate with the inhabitants of Donbass and stops trying to create "favorable conditions" for itself to solve the problem by force.
As for border control, Putin cited extracts from the Minsk agreements. In which it is said that the border transfer process should begin on the second day after the elections in the Donbass, and end only after a comprehensive political settlement of the conflict, i.e. the Constitution of Ukraine should reflect the rights of residents of the region.
At the same time, Putin positively considers the continuation of communication in the "Norman format" and noted a number of positive developments - the withdrawal of forces and assets at key points and the extension of the law on the special status of certain regions of Donbass. However, Putin thinks this is not enough. After all, if troops are withdrawn everywhere, the number of shellings will decrease to a minimum. In addition, the law on special status should be permanent, and not be temporary and easily changeable.