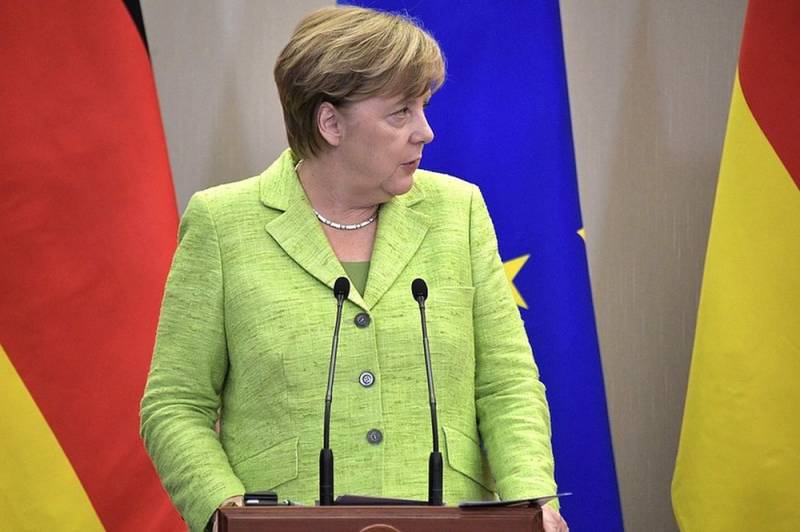 Recently we
Reported
what vigorous activity the "partners" of Russia from Washington began to show about the "Nord Stream-2". And now, German Chancellor Angela Merkel has already responded to attempts by US lawmakers to sanction this gas pipeline. After that, the largest German daily tabloid newspaper Bild ("Bild" - "picture, image") called Merkel's statement "a declaration of war" to US President Donald Trump.
The publication reports that Merkel "in clear words" made it clear to Trump that he would not tolerate further US attempts to interfere with the implementation of the gas transmission project, which enjoys its support.
We are against extraterritorial sanctions, and not since yesterday, we faced a similar problem in the context of Iran. I do not see any other options than to conduct decisive negotiations (with the USA - ed.) That we do not accept this practice of extraterritorial sanctions
- said Merkel,
The publication believes that, despite the actions of the Americans, it will not be possible to stop the project worth about 10 billion euros at the finish line, and it will be successfully completed soon. It is specified that more than 2100 km of pipes have already been laid at the bottom of the Baltic Sea (each "string" of 1200 km). It remains to lay, in total, about 300 km of pipes.
At the same time, the publication does not exclude that due to US sanctions, the completion of work and the commissioning of the gas pipeline may be slightly delayed. It is also possible that Russia may have to look for new special pipe-laying vessels to complete the work.
It should be added that at the same time Germany was openly talking about the introduction of duties on American reduced natural gas (LNG). In addition, Merkel does not exclude that the restrictions that the United States may impose on Nord Stream-2 may adversely affect negotiations on gas transit between Moscow and Kiev. Merkel clarified that the talks "are pretty encouraging."
<...> And in this regard, it would be unfavorable if Ukraine did not receive transit fees, because the negotiations would be complicated, because, on the other hand, we have this position on Nord Stream 2
- said the Chancellor of Germany.
By the way, in Berlin they expect a "New Year present" from Washington in the form of sanctions by the end of this year.