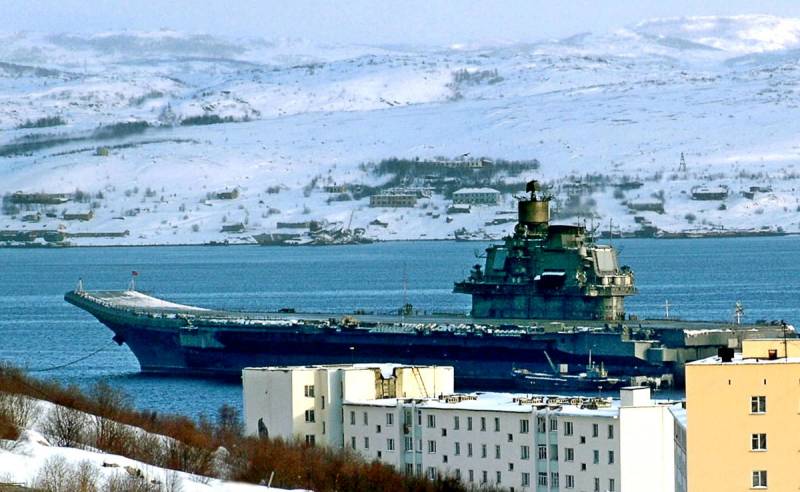 Recently we
Reported
about the fire on the Heavy Carrier Cruiser (TAVRK) "Admiral of the Fleet of the Soviet Union Kuznetsov" that arose during repairs at the pier of the 35th Shipyard in Murmansk and caused casualties. And so it became known that the damage caused to the Kuze (the sailors affectionately call it sailors) is comparable to its present value.
It should be noted that regarding the only aircraft-carrying cruiser in Russia, the network users began to have various questions about the presence in Murmansk of representatives of the civilian Ministry of Industry and Trade, and not just the military from the Ministry of Defense. At the same time, as a source at the headquarters of the Northern Fleet told Kommersant, the military is extremely indignant at the announced amount of damage from the fire at Kuz.
The cost of such a ship, without weapons and taking into account wear and tear, is 110 billion rubles, and according to preliminary data, the damage was estimated at 95 billion rubles. And this is not only about damage to the ship's structures, "but also about the damaged repair equipment and the malfunctioning due to injuries of military and civilian specialists." However, the source does not know what will be done with the aircraft carrier cruiser.
Most likely, Kuznetsov will still be restored, but more because of its legendary nature than combat ability
- clarified the source.
It should be added that earlier sources in the Russian shipbuilding industry claimed that the fire inflicted minor damage on Kuza, which would not affect the repair time very much. At the same time, a significant part of netizens believe that Kuzyu should be preserved in any case, at least as a floating training base for carrier-based aviation, until modern aircraft carriers for the Russian Navy are built.
We remind you that on December 15, 2019 in the southern bay of Sevastopol
sank
decommissioned floating dock PD-16 and the large diesel-electric submarine B-380 located in it (preparing for disposal), which then surfaced on its own. This submarine, having a difficult fate, clearly does not want to "die" in the process of turning into scrap metal and in every possible way demonstrates its desire to continue to exist even in the form of some kind of pedestal. When the 80-year-old floating vessel, a participant in the defense of Sevastopol during the Second World War, dragged the submarine to the bottom of the bay, there was enough air in its airtight compartments to independently raise it to the surface.