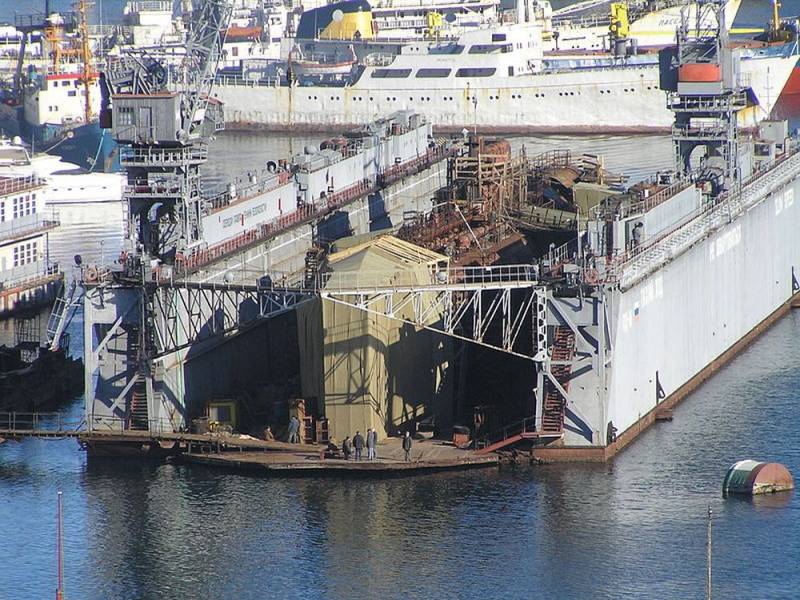 December 12, 2019 we
Reported
about the fire that occurred at the Heavy aircraft carrier cruiser (TAVRK) "Admiral of the Fleet of the Soviet Union Kuznetsov" during repairs at the pier of the 35th ship repair plant (Murmansk). And now, another state of emergency. On the night of December 15, 2019, the decommissioned floating dock PD-16 with the decommissioned submarine located in it sank in the southern bay of Sevastopol.
Sources in the military industrial complex specified that these facilities, at the time of the state of emergency, did not belong to the structures of the Black Sea Fleet (BSF) of the Russian Navy. No information on the victims. There are no official comments from senior officials and military either.
According to preliminary information, the sunken submarine is a decommissioned large diesel-electric submarine B-380 (formerly the Gorky Komsomolets, project 641B Som), which has been part of the Black Sea Fleet since 1982. This submarine was tormented for a long time, until April 29, 2016 the utilization tender from the Ministry of Defense was announced.
So, the sunken submarine B-380 surfaced on its own and lay on its port side, resting its cabin on the side of the floating dock. What emergency services of Sevastopol reported, suggesting that flooding of the floating dock could occur due to its technical condition - use and repair were impossible.
It is also known that the floating dock does not belong to the Federal State Unitary Enterprise "13 SRZ PRF" of the Ministry of Defense, its dismantling is planned. We remind that the big floating-dock "SPD-16" was laid in 1938 in Nikolaev. In 1941, it was commissioned and the flag of the auxiliary fleet was raised on it. He even participated in the defense of Sevastopol during the Second World War.
We remind you that on the night of October 30, 2018, a unique (the only one in the European part of Russia) giant floating dock PD-50, where the Admiral Kuznetsov was being repaired, sank in Murmansk.