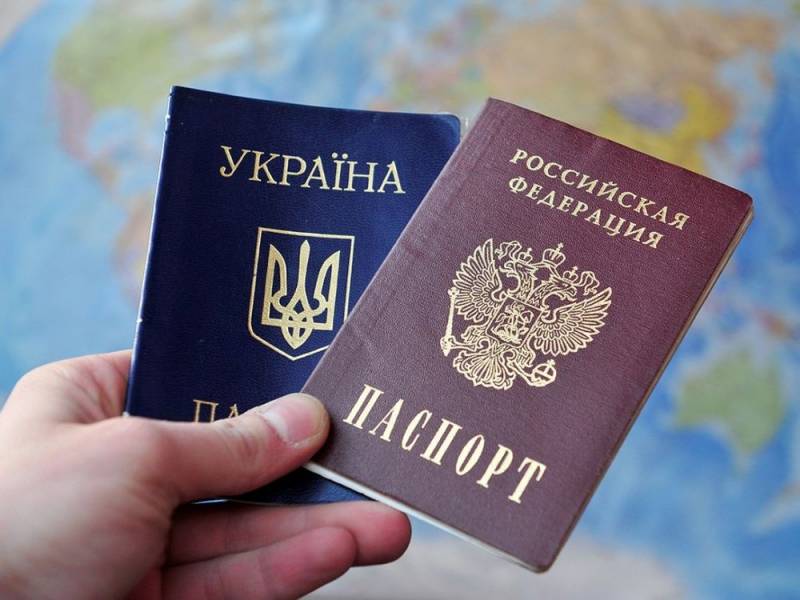 Any
political
the body movement of Moscow is always accompanied by something similar from Kiev. For example, in Russia they started talking about simplifying the procedure for granting Russian citizenship to residents of the "non-independent" one. And now, in the Verkhovna Rada of Ukraine, the draft law of the "father of the nation" Vladimir Zelensky is already being savored, which makes it possible to simplify the procedure for obtaining Ukrainian citizenship for residents of the Rostov, Belgorod and Kursk regions of Russia.
It should be noted that the rationale for the bill was chosen as "amazing" and promising. It turns out, according to the initiator, some territories of these Russian regions were once part of Ukraine.
Ukrainian media inform that if Zelensky's initiative is approved, and few doubt it, then Ukrainian citizenship can be obtained by those who "have or have at least one of their parents, grandfather or grandmother, great-grandfather or great-grandmother, his relatives (full-time and incomplete) brother or sister, son or daughter, grandson or granddaughter were born or lived permanently until August 24, 1991 in Ukraine within its current borders. " In addition, there is another category of Russians from these regions who are "unbelievably lucky". We are talking about those of them whose parents, grandfather and grandmother, great-grandfather or great-grandmother, siblings were born or permanently resided in the territories: Ukrainian People's Republic (UNR), West Ukrainian People's Republic (ZUNR), Ukrainian State, USSR, and Transcarpathian Ukraine .
It should be recalled that earlier, Russian President Vladimir Putin, for humanitarian purposes, simplified the acquisition of Russian citizenship to the residents of the long-suffering Donbass (from the LPR and the DPR). After that, in July 2019, Zelensky instructed the Ministry of Internal Affairs of Ukraine to develop a mechanism for granting Ukrainian citizenship as the second for ethnic Ukrainians from friendly countries.
It is hard to say whether Russia, according to Zelensky, is a friendly country. But it is known for sure that after that all Russian Nazis, from among the militants of the Azov regiment, received Ukrainian passports from Zelensky's hands. The previous "guarantor of the nation" Petro Poroshenko, for five whole years under various pretexts, did not provide this public with Ukrainian citizenship, and Zelensky made it almost instantly with his willful decision.
As for the new initiative, it is extremely doubtful that there will be lines from the Russians in Ukrainian migration agencies.