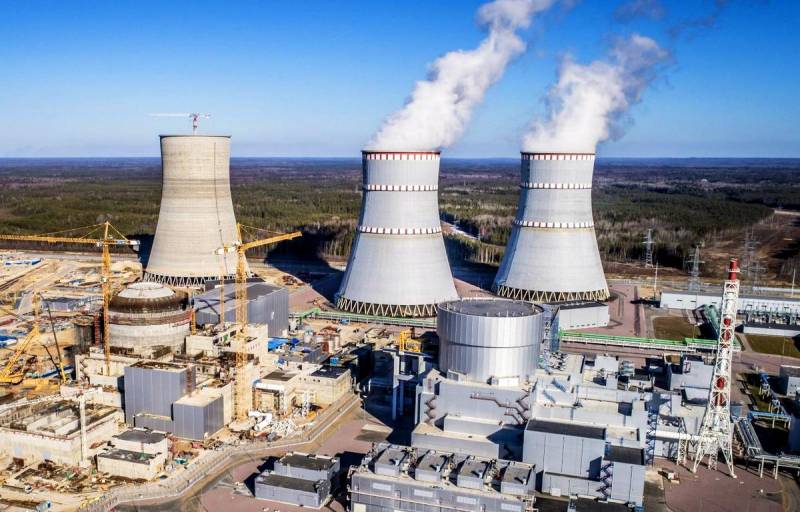 It seems that Lithuania is suffering a final defeat in the fight against BelAES. The already uneven scales are now outweighed by the mighty China, which has sided with Minsk. But is it worth blowing fanfare about this in Moscow?
Recall that Lithuania has a difficult history of relations with nuclear energy. Vilnius inherited its own Ignalina nuclear power plant from the "invaders." A small country, having received the "independence", could live well, using cheap electricity for its needs and selling its excess. But after joining the European Union, the fate of the Soviet nuclear power plant was a foregone conclusion.
Lobbyists of EU energy companies, who could not compete with cheap electricity, forced Lithuania to abandon its own nuclear power plant on the pretext of its alleged danger. The phrases ominously sounded "Chernobyl-type nuclear power plant." Ignalina NPP was closed, domestic electricity prices immediately began to rise. Alternatively, Lithuania was offered to build a new Fukushima-type station in American and Japanese
technology
. How "safe" they are, it became known much later.
The project of the Lithuanian nuclear power plant eventually quarreled Vilnius with all its neighbors. The "Sisters" delayed the process, and Poland even came up with the idea of ​​the need to build its own nuclear power plant. And here Minsk agreed with Rosatom about BelAES. Lithuanian authorities sharply greeted the project with hostility. Firstly, the nuclear power plant is being built just 50 kilometers from the country's capital Vilnius. Secondly, being put into operation, it completely kills the not-yet-built Lithuanian station of the "Fukushima type".
Unable to convince the world community of the dangers of BelAES, Vilnius imposed a legislative ban on the purchase of electricity from Minsk. True, how Lithuanians will separate Belarusian electrons from Russian ones in networks is not entirely clear. And here China entered the game.
The Chinese state energy company Power China, represented by its North China Power Engineering (NCPE) division, will sell Belarusian electricity in the Baltic states. It is alleged that Beijing issued a $ 5 billion loan to Minsk under this case. Considering
political
weight and
economic
power of China, it is easy to guess that the Chinese will bend little Lithuania. But is it worth rejoicing at such an outcome of events in Russia?
The expansion of China into the post-Soviet space is clearly demonstrated. It turns out that for quite some time now, the Lithuanian Institute of Energy Networks, located in Kaunas, is completely controlled by Beijing, and only the Chinese are sitting on its board. The activity of China in the Belarusian direction is also alarming. It is widely known that loans issued by the Chinese often turn into natural debt traps, as a result of which the infrastructure of the "natives" often migrates into the hands of the Celestial Empire.
The "multi-vector nature" of Minsk's policy can play a cruel joke with him, and in the end Moscow will have to rake all this.